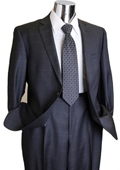 Window pane suits, the classic look of the old times is back to rule the fashion circuits of men. If you desire to flaunt this look yourself and are wondering what is a window pane suit exactly, and how can you work it for your benefit, then you are surely at the right place. To get started with the basics, you need to know that window pane suits are those which have the window pane patterns on them. The patterns which have the slim lines that cross shapes like the ones in the old style window panes. As these patterns have made a huge comeback, many people are running to shops to get these suits in order to enrich their wardrobe. If you are one of these men and looking for the best window pane suits , then www.mensitaly.com is the online shopping portal where you should hunt!
Many people tend to call this just a passing by trend, but there are many practical reasons for which these window panes patterned suits can be more than that, and end up as the perfect pattern. The pattern of the window pane suits is such that makes a slim guy look quite beefed up, and has a slimming effect on the larger sized man. Window pane suits are also ideal for guys who are chromatically challenged, that are those who fail to match or coordinate colors with their suits, jackets, ties and other accessories. One of the other main reasons that men are opting for these window pane suits is that they are quite straight forward. Most men love the houndsooths, herring bones and glen checks, but the elegance and an old world charm a windows pane suit brings along can be no match to the ones mentioned before.
As mentioned before, window pane suit can be adopted by all kinds of men. It is the flattering or the forgiving nature of it that pushes the window pane pattern to the top in the list nowadays. If you are larger in size, you must opt for window panes which are not squarish in shape but more elongated, that is rectangle in shape. This gives the affect of slightly elongated image and making bigger guys more appealing. The dos and donts of a window pane suit is very important to be kept in mind. You can wear these window pane suits to offices or dinner parties for sure. But in situations like a job interview or funeral you must avoid this pattern at all costs. As now you know exactly what is a window pane suit, make sure to work the look in the best way possible.
Two Way Matches