Home > Articles > The classiness Of Ivory Dinner Jacket Style And Make
The classiness Of Ivory Dinner Jacket Style And Make
The style of ivory dinner jacket was introduced in America in the year 1930. Apart from the regular formal wear this outfit tends to be much more comfortable and professional in giving a chic look. For tourists and business people who continue voyaging to different countries especially the tropical regions found it very difficult to carry themselves in a heavy made fabric with dark colors which absorbs heat very badly. There was no other choice of clothing to present them in a formal manner. On having this as the necessity, the dinner jackets came into being. The attire initially meant for vacationers to dress formally in the tropical regions as the fabric used meant to keep them cool from heat and gives a much relaxed feel. The light colored ivory dinner jacket became popular as a warm weather alterative.
The type of jacket is meant suitable only for formal occasions during the summer season in America. Men started to wear this apparel for social gatherings, country club dances and yacht parties. The fashion of ivory dinner jacket has been started to spread worldwide and it is also accepted as one of the formal wears of black tie event.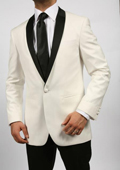 The ivory dinner jacket model
It comes in both single breasted and double breasted Jacket types where each has its style details in suiting perfect the modern men's fashion expectations. It offers great comfort and distinct advantages for warm weather climates. The jacket has a narrow opening and the wearer can dispense with a waist covering. Peak lapels and shawl collar are the mostly preferred type where peak lapels meant to be the widely accepted formal one. The shawl collar is ideally suited for casual and semi formal events.
Fabric
90% of the ivory dinner jackets are made of wool as this is a perfect fabric that offers comfort and relaxed feel to the wearer. The material by nature is light weight and smooth. The super quality 120, 150s and merino wool are been highly used in the make which makes the attire even more classy and a bit expensive. Light weight natural fabrics such as cotton, gabardine and linen are used as alternatives to the standard worsted wool.
Style pattern
The lapels are self facing i.e. the same fabric is used as that of rest of the jacket. The pleated front shirt with turndown collar matches perfect with the ivory dinner jacket. Suspenders, handkerchief, cufflinks, shirt studs and other accessories should be matched appropriate with the jacket. The ivory jacket when worn with standard black tie trousers and cummerbund gives a fine look to the wearer.
The fashion hints
The ivory dinner jackets are appropriate only for warm-weather locales.

The shawl collar is by far the most usual lapel for the warm-weather dinner jacket.

The peak lapel is relatively rare on the summer coat. But, in this type of dinner jacket it is widely accepted.

The ivory dinner jacket is worn with standard black-tie trousers and cummerbund.

Stick to light colors such as off white, ivory and natural fabrics for jackets, such as super 120s wool model.

The look of ivory wool jacket can be even more enhanced with a colored pocket square.
The latest collections
Some of the latest collections of dinner jackets include: Men ivory One Button Shawl Tuxedo Dinner Jacket, Men Classic Solid ivory 1 Button Shawl Tuxedo Dinner Jacket, New ivory Perry Ellis "Rio" Tuxedo Dinner Formal Jacket, Ivory Off-White One Button Shawl Tuxedo/Dinner Jacket Formal Cruise Theater, Ivory Off-White Shawl Lapel Tuxedo/Dinner Jacket, Men's Fashion Business One Button Slim Fit dinner jacket.
If you are about to attend a black tie event then this type of dinner jacket is the ideal choice. It is better to buy the materials than taking it for rent. Do not hesitate to spend some chunks of money for dressing yourself formal and elegant. Better go buy branded collections such as Calvin Klein, Ralph Lauren, Ike Behar, Cardi , Hugo boss etc that offers you really quality wardrobes. To check out all the new arrivals and branded collections log on to mensitaly.com.