Home > Articles > Mens Chocolate Tuxedo As An Alternative To Traditional Tuxedos!
Mens Chocolate Tuxedo As An Alternative To Traditional Tuxedos!
Mens chocolate tuxedo is the best option to enhance your styling. The tuxedo features two button front, self top collar, satin besom pockets and satin notch lapels so that you can derive versatile look in an efficient manner. The rich chocolate tuxedo can be considered for daytime as well without any issues.
If you would like to wear unique dress during weddings and proms, chocolate tuxedo offers best flavours. It is a great way to stand out from the crowd and you will be very classy as well. There are chocolate brown tuxedos which will be made with superior quality polyester material and a matching vest and necktie set can be purchased very easily. The chocolate brown will not be boring. It will let you go on high fashions without any issues.
When you wear mens chocolate tuxedo with correct fit and design, you can capture wonderful memories. The chocolate colour is picking up and the wedding dress can be purchased as per the tune and style of the bride. It is a great way to declare your fashion statement with chocolate tuxedo. The vest and tie colour should be selected carefully so that the entire look will be unique and pomp for the occasion. If you go through the suggestions offered by experts, you will wear it in the most appropriate way. You will understand the fact that the selection of colours and designs will play an important part and it is not the price that matters the most. You can nail down the next occasion by wearing highly fashionable dress so that you can make the most of your investment.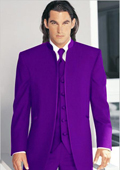 How to wear colorful tuxedos ?
You can wear colorful tuxedos at various grand occasions. When you get an invitation to a wedding, you might find some dress code options. You can utilize those opportunities to experiment with stylist collection. You should decide upon pre-tied bow tie and actual bow tie. If you are facing younger crowds, black tie can be worn. There are varieties of colourful tuxedos which are being witnessed these days. The history of tuxedos can be dated back to 1886. You can buy a good tux which is a great investment as it will last for many decades.
Why should you go for yellow tuxedo vest?
Yellow tuxedo vest are a great option for formal wear. You have huge collection of yellow tuxedos to shop for. By choosing appropriate outfit and accessories, you can have great moments which can be enjoyed all through your life. These vests are available in several tones. You can find banana tuxedo vests and lemon formal vests. Find perfect match as per the wedding or prom celebration. Along with the vest, you can also select matching neckwear so that brilliant coordination with vest can be achieved. You can also consider yellow bow ties and yellow formal neckties as per your needs.