Home > Articles > Look Stylish with the Finest Variety of Men's Suits
Look Stylish with the Finest Variety of Men's Suits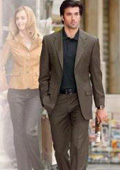 If you are keen to wear only finest variety of men's suits, then you must stop shopping for them in chain stores, department stores, or retail warehouses that predominantly cater to the mass markets and not to the elite. Most of these sales outlets will bother less about quality and sell cheap outfits targeting the cost-conscious market.
Truly exceptional and sophisticated men's attires will be available only in upscale boutiques and specialty men's stores. Only distinguished gentlemen who possess aristocratic fashion taste will be looking to buy the finest variety of suits regardless of the price tag.
The first thing you absolutely need to do is to get your exact measurements as any ill-fitting outfit – however costly or fanciful – will create a poor impression. Besides, getting properly measured will indicate to you what type of suit will best match your body frame.
Basically there are four main styles and they are American, English, Mandarin and Italian suits.
The Italian style is a double breasted one and eminently perfect for tall men.

The British style is single breasted and provides an imperious look compared with other styles.

The American style is the most casual of all the four and makes you look a few years younger.

The Mandarin suit should be your choice if you are influenced by more traditional eastern culture.
Which style you choose is truly a matter of your personal preference. You have to consider your body type, personal style, and the nature and timing of the event for which you plan to wear the suit.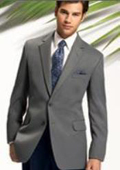 Some of the features of finest variety of men's suits are:
There will be a flower loop manually stitched under the lapel to hold the stem of the flower that tailors who care about tradition would provide and men who value tradition would want.

The sleeve linings will be finely hand stitched to ensure that the shoulder will fit perfectly and comfortably. Check the inside seam where the arm meets the torso. If it is manually sewn, you will hardly see any creases or pleats where the two cloths come together.

If the internal left breast pocket is set off by strips of the external fabric, then it has obviously been reinforced to prevent sagging.

There is a credit-card-sized hidden pocket to secretively store all your valuable possessions from the prying eyes of the passersby.

Look for vented pleats to check whether the subtle fold falls just below the internal waistband to guarantee a good fit. It also helps tucked-in shirts from bagging or jetting out.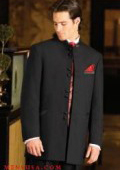 Once you've figured out an elitist suit, you then have to concentrate on other options such as - the choice of color, the kind of fabric, any particular brand, style and the nature of accessories.
It is good to know about suit patterns that are as important as suit style, fit and color. The four main commonly known suit patterns are solid, pinstripe, windowpane, and check patterns.
Fabric or the material that the suit is made up is another key factor you should consider when buying a suit. Though suits are most commonly made from wool, there are several other materials that should deserve your attention.You can choose from amongst Cashmere, Cotton, Flannel, Herringbone, Linen, Polyester, Poplin, Seersucker, Silk, Tweed etc – each has its own merits and limitations.