Home > Articles > Information about Men's Tuxedo Rental
Information about Men's Tuxedo Rental
MensItaly have latest men's tuxedo and formalwear styles. Tuxedos are timeless and classic. Men's tuxedo is right choice for any formalwear occasion. Show off your style with your choice of vests and ties. MensItaly make buying your tuxedo or renting it as easy as 1-2-3.
Men's Shirts & Trousers
A pleated formal men's tuxedo shirt should be a staple in your formal wear wardrobe. Different styles of shirt collars are available such as the traditional lay down, wing or banded collars. You will want to coordinate the style of your shirt collar with your choice in ties and vests. Shirts come in 100% cotton or polyester/cotton blend to reduce wrinkling. Tuxedo is the perfect compliment for the impeccable look. If you can't afford to buy it you can rent it.
Choose from a selection of styles of men's tuxedo for work or any special occasion.
Men's two button front tuxedo rental is a classic and will never be out of style.

Three button front tuxedos are standard and continue to lead the fashion trends.

Single breasted, three button tuxes is made of Super 100's grade of wool. This tuxedo features satin notch lapels, three button front and a single breasted one button tux is made of Super 100's grade of wool.

If you're looking for formalwear, get the entire package of Men's tuxedo rental. Entire tuxedo rental set including shoes can be your great-looking formalwear for special occasion.
The vast ranges of men's tuxedos available for rent are as follows: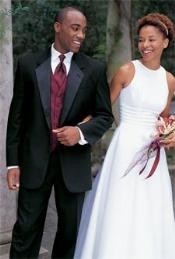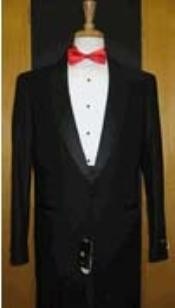 Men's 1 Button Tuxedo

Men's 2 Buttons Tuxedo

Men's 3 Buttons Tuxedo

Men's 4 Buttons Tuxedo

Men's Double Breasted Tuxedo Rental Suit

Men's White / Off White Tuxedo Rental Suit

Men's Fashion Tuxedo Rental Suits

Men's Tuxedo Rental Shoes

Men's Tuxedo Rental Vests, Shirts & Pants

Men's Mandarin Collar Tuxedo Rental

Men's Black Tuxedo Rental

Men's Formal Tuxedo Rental

Men's Designer Tuxedo Rental

Men's Wedding Tuxedo Suit Rental