Types of Vests
We are now living in a more modernized world and it is extremely important to look good and stylish all the time to catch the attention of everyone around. A mens vest is a sleeveless clothing article that is a combination of fashion and functionality, while providing you supreme comfort and maintaining your chic look. Today's fashion designers have come out with infinite vest trends that are sure to give you the desired look and persuade everyone you come across.
Gone are the days, when these vests were worn underneath a suit or jacket, but today they are worn alone to make a unique fashion statement wherever place you go. With these vest suits, you can achieve varied looks that are suited for many different occasions and ever changing fashion trends. Today, the vest designs and types range from basic to ultra-modern to wild and it could be even out of touch. They continue to grow rapidly in popularity more than ever. Read on the article to know more about the different types of vests available in the fashion market.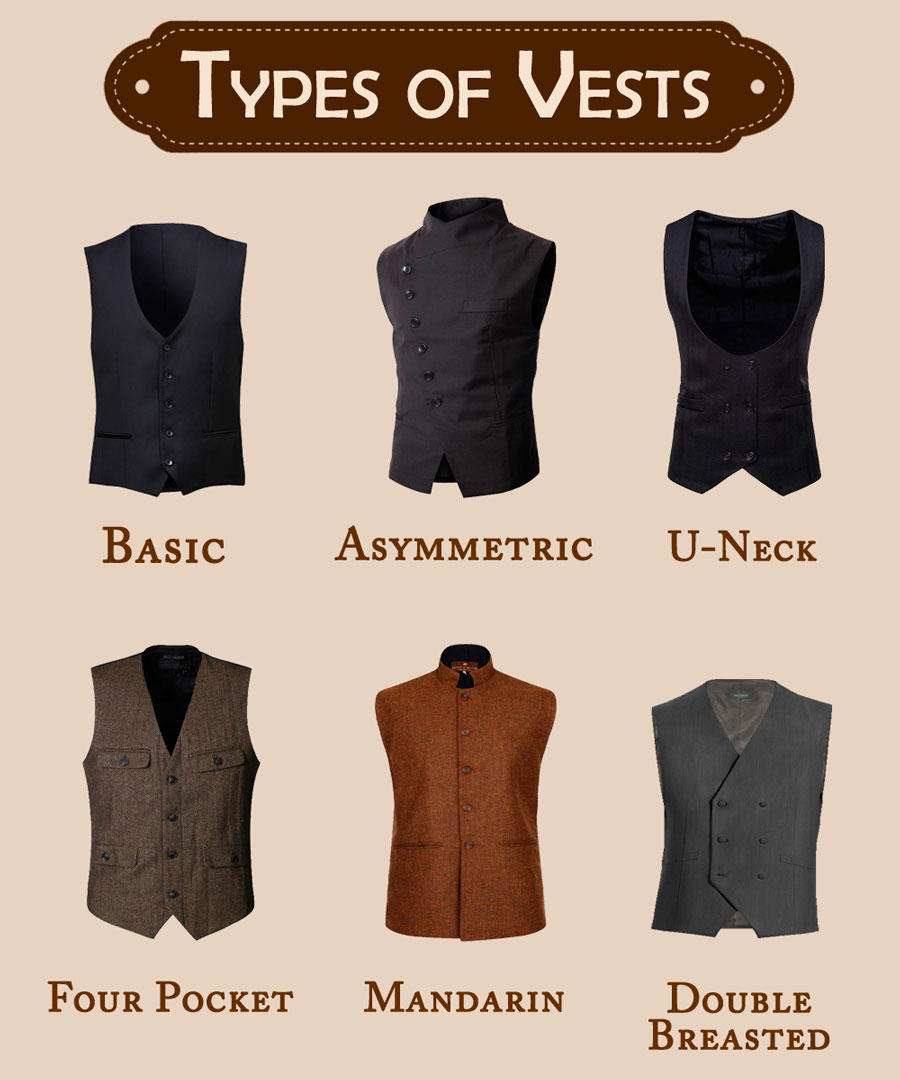 Basic vests These basic vests are mostly single breasted in nature and are the most common choice amongst fashion minded men. You are free to choose a configuration between 3 and 6 buttons and the number of buttons directly influences the formality level. The higher the number of buttons, the greater the formality level of the outfit. Whatever is your choice, you are sure to look highly sportier and slimmer in a basic vest. These basic vests are usually devoid of lapels and feature a simple and discreet design. They can be worn over both formal and casual clothing articles to give off a polished elegance. If you choose to wear a 6 button basic vest, you should not close the last button from the top. This is just to avoid unforeseen stiffness during sudden and speedy movements.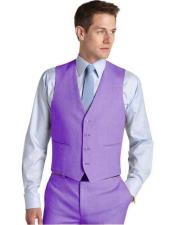 Put succinctly, they allow for the easy movement of the wearer. They are versatile clothing choices that could help you make a real fashion statement about your individual wardrobe. This clothing trend is not going to change anytime soon and they are set to rule the fashion world in 2021. These sleeveless clothing articles have taken the backseat for the last few years and now they are back again in fashion. Simply take a break from the old stereotypes of wearing heavy suit jackets and wear basic vests along with your outfits to all your occasions and make everyone stunned at your whole new look.They are the sure-fire winner for all events that you can rely on with no hesitation.
Asymmetrical vests
They are much more attractive in nature and are an easy way to update your both casual and formal wardrobe. They are great layering clothing choices that you can put on over many different outfits to achieve eye catching looks at varied occasions. When you wear these vests, you will be the star of the event and taking the center stage all the time. You will also have a simple and streamlined look with these clothing articles. Simply look at the fashion trend from a fresh new angle, wear these asymmetrical vests and liven up your wardrobe. Whether your
asymmetrical vest
is slanted across the back, front or even side, you can make a strong fashion statement that could be adored by everyone.
These vests are just right to give you both conservative as well as modernized look that simply can't be beaten. With a little more creativity, you can create n number of looks with this simple vest suit. These vests are an excellent and subtle way to express the artsy side of your individual personality. Their uneven hemlines draw the eyes upward and create a leaner long line that could make you appear quite taller and slender than you actually are. They are made in such a way that they beautifully hide your belly bulge and accentuate only your positive features. They do come in various colors, designs and patterns to suit your personal fashion tastes and desires. One thing is for sure, whatever choice you make, these asymmetrical vests greatly help sculpt your body shape.
U neck vests
If you would like look extremely classy and mannish, your best bet could be U neck vests. When you look at the high end fashion runways, you will see many iconic stars sizzling in hot U neck vests. This classic clothing choice has made a huge and grand comeback in the recent times and many fashion aficionados are showing their interest towards wearing these distinctive vests. These vests are creating ripples in the fashion world and you can simply throw on one of these vests to catch many eyeballs. They are extremely easy to wear and give supreme comfort to the wearer. They are cozy and versatile clothing articles that could be styled in a range of ways.
They can be teamed up with almost all your wardrobe ensembles and help create unique style statement everywhere you go. They are capable of giving you both formal and casual look when worn right. With these vests, you can create many different looks and score high in fashion. Wearing U neck vests over a solid white shirt is a distinctive way of showcasing your fashion basics. Whether you would like to achieve a classy look or funky look, a U neck vest outfit could be the ideal choice for you to gain flattering as well as sweet compliments. They go perfectly for all your occasions and are as versatile as you want them to be.
Four pocket vests
As we all know, fashion has no limits and boundaries and it keeps on evolving continuously. Many fashion aficionados are fascinated with the four pocket vests and the unique style it brings. Nowadays, they are becoming a preferred style for men and many are taking up this new distinctive style to flatter their figure. Since these vests do come with four functional pockets, you can easily store all your valuable items in the pockets and keep them safe all the time. They give you more space in the pockets to keep many important things inside. Other than functionality, they score more in bringing good comfort to your physical build. They can be worn all year around, regardless of the season you are in.
When you are in colder season, you don't have to cover your torso with a heavy blanket, but this simple four pocket vest would give you the much needed warmth and snug fit to keep the winter elements at bay. When you wear these vests, you will feel completely wrapped up while giving off a chic elegant look. These vests give you high confidence and make you appear so sexy and stylish. Believe it or not, these vests are more and more useful than they really look. They keep you completely organized with no fuss. Some vests do come with hidden pockets that are a coolest feature of these clothing articles. If you would like to keep your stuff organized all the time, you can always count on these four pocket vests. With these vests, not only will your stuff be safe, but also they are super secure.
Mandarin vests
Mandarin vests are also called as Nehru vests that feature a stand up collar generally accompanied by a round neckline. These vests do come with or without buttons. In buttoned vests, the arrangement is generally in a single straight line for fastening. They are a must have clothing article for every single man who loves to put on his right attitude up his sleeve and believes in simple yet elegant style. You can wear these
mandarin vests
to both casual as well as formal occasions and look dashing. These subtle vests make you look persuasive and fashionable at the same time. They can be worn in a number of creative ways to adorn your look better. Whether you would like to achieve a stylish western look or more conservative look, there is certainly a mandarin vest readily available for you.They are a must have clothing staple in every man's closet that would gain you many attention and positive comments. You can stylize the vest the way you want and dress up in a distinctive way for all your events and occasions.
Double breasted vests
Double breasted vests offer you a more formal look with the right hand side of the vest reaching farther over the left side with two rows of buttons. These vests usually do come with 4 to 6 buttons. They come with
collared or V shape neck
and anything from 1 to 4 functional pockets. The shape of these two breasted vests tends to increase the size and shape of the wearer, making them appear extremely authoritative and manly. If you are a fashion conscious individual looking for ways to project an air of classical masculinity, you should certainly opt for a neat fitted double breasted vest. You will benefit greatly from these clothing articles. They are excellent choices for formal occasions where you can steal the attention of everyone gathered.
These vests are structured and streamlined in nature and exude an aura of elegance and authoritativeness when worn. They can be paired with solid dress shirts to get a business casual look that is just right to convince all your superiors and business partners. If you are a man with lean body build, then this double breasted vest is the best bet to flatter your body shape. They are designed in such a way that they broaden your shoulders and keep your midsection in the proper proportion. These vests, when worn, give you a stylish slimming look. When you wear these vests, automatically many eyes would be drawn to your look. Also, with them, you can create a flattering silhouette that would certainly be loved by every single fashion aficionado.