Single Breasted Vs Double Breasted Suit Jackets
Beyond doubt, the suit is an exceptional item in men's wardrobe that perfectly reflects a man's style and individual persona. Every man should have at least one neat fitted suit that is both classically stylish and purposeful. A good suit makes a man appear so sharp and neat all the time. The construction and appearance of the suit is an extremely important part which makes a suit look exceptionally good on any man. Many men generally don't have any clue of what constituted a good suit. If the suit comes with attractive buttons, fancy collars and enough space to accommodate the whole body of the wearer, it is good enough, men think. But there are a lot more associated with it, you know. We have two types of suits namely, single breasted suits and double breasted suits. Let us discuss about them clearly and elaborately in this article.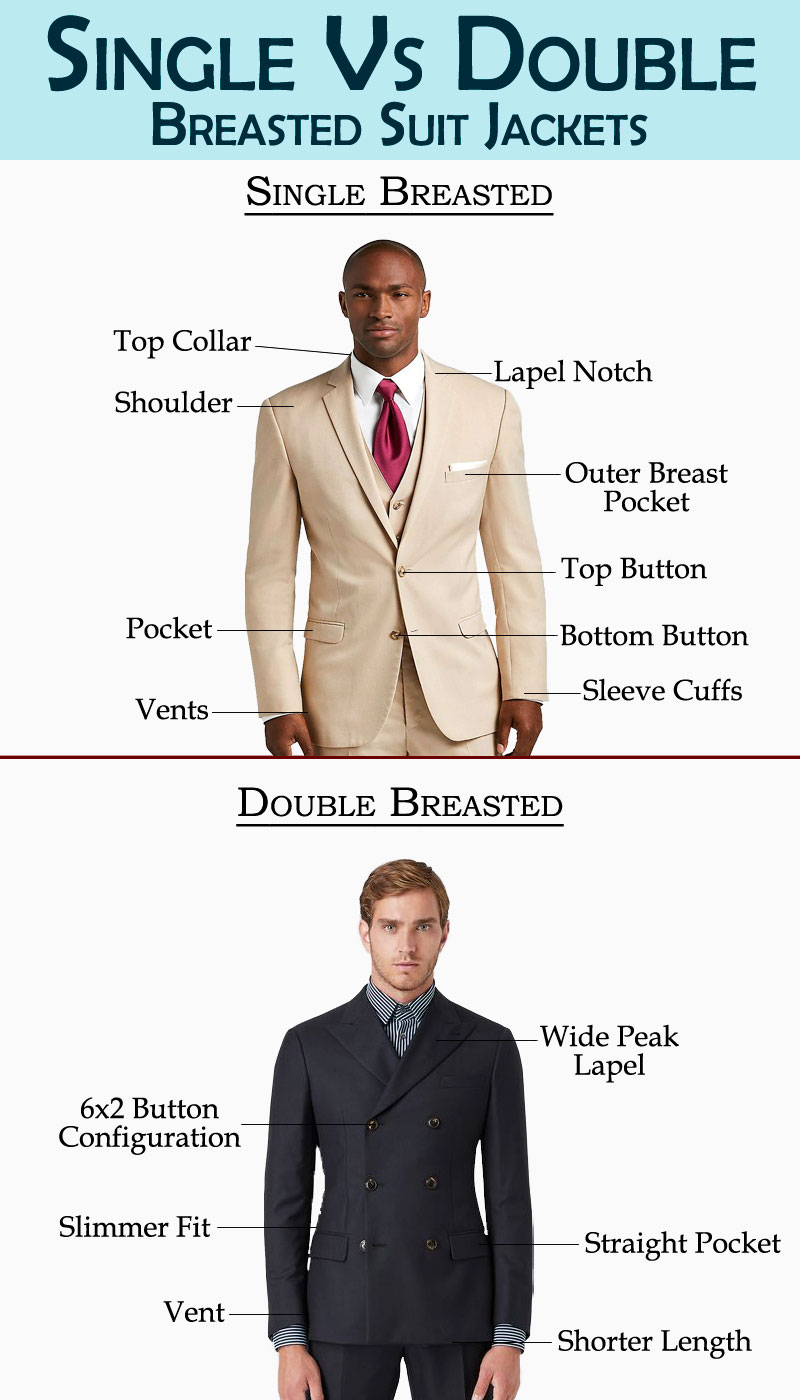 Single breasted suits are formal clothing articles that do have two halves that button together at the front portion. This is actually a more classic style and widely accepted by many men all over the world. These suits do come with 1 to 4 buttons and more commonly 2 button single breasted suits are seen. One button shawl lapel single breasted suits are mostly preferred for formal wedding events and other black tie events. Other than single button suits, every single suit is made with notch lapel as it is the most preferred and chosen lapel by many renowned fashion designers. These single breasted notch lapel suits are the extremely flattering and slimming kind of suit for many men and obviously they are the king of the closet that you should always own without fail.
Notch lapel
This lapel style comes with V shaped cut and the fabric sharply points inward the collar where the lapel and collar perfectly meets the suit jacket. This kind of lapel plays a major role in accentuating the shoulder width of the wearer. If you are a tall and broad shouldered man, certainly this sort of lapel is the perfect choice to elevate your look and accentuate your masculine silhouette.
Button style
The buttoning style is the second important aspect that could directly affect the appearance of a suit. Top button of the suit is the most vital thing that should be buttoned all the time to give off a formidable professional outlook. Buttoning the top button would give you a sleek style and professional look. Bottom button can be left buttoned or unbuttoned according to your own choice of preference and you can even unbutton all the buttons and let the jacket hang over your shoulder and fly while you walk steadily to give out a cool casual look. The bottom button point elongates the notch lapel and helps you appear taller and slimmer than you actually are. This is the main reason why men often do prefer wearing 2 or 3 button single breasted suits to counterbalance their height. They could also add a broadening effect to your chest that can be unparalleled. If you do have some extra pounds in your midsection, you can make up your bottom button to cover your body flaws and highlight only your positive features. They would also provide you more of business man look that could be loved and adored by everyone for sure.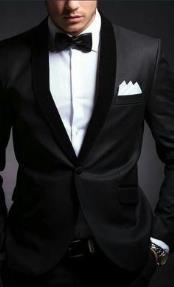 Shoulder
The shoulder portion of the suit directly influences the final appearance of the wearer and so it should be given deep consideration all the time. If you would like to create a stronger as well as masculine look, you can go for British tailoring single breasted suits that feature a structured shoulder with stiff padding. The help create the illusion of broad shoulders. According to your arm length and shoulder width, you can choose to wear single breasted suits with light or heavy shoulder padding.
Pockets
Single breasted suits generally come with regular breast pocket and bottom straight pockets. Breast pocket could be seen on the top left above the breast of the wearer where you can place a square pocket for a rich opulent look. In some suits these pockets are curved like a little boat for a distinctive hit of style. Straight pockets are arranged just straight to the bottom button to give utmost convenience to the wearer in case of placing anything inside the pocket and taking it out effortlessly.
Sleeve cuffs
Sleeve cuff is a layer of fabric present at the lower edge of the suit sleeve. If you are dressing up for a casual event, you can prefer standard barrel cuffs that come in a range of styles and designs. They are never a bad choice for formal events too. More common variety is single button sleeve cuff that is perfect for black tie events and traditional occasions. Sleeve cuffs with two or three buttons are rarely seen but are popular for their elite sophisticated look. These buttons in the sleeve plackets help the sleeve stay completely closed and snug all through the wearing time. For a laidback style, it can be opened. Whatever choice you prefer, certainly they could add an air of elegance and uniqueness to your look when worn. No matter what the occasion is, you are sure to take the center stage with these simple sleeve cuffs.
Double breasted suits generally have two halves, one with attractive buttons and another with the provisions for buttoning. You will also find two rows of buttons arranged. The front portion overlaps sufficiently to let both flaps be firmly attached to the opposite row of buttons. Men of average height can benefit greatly from double breasted suits because they would give a complete as well as fuller appearance to their individual body shape. Also, they have the tendency to draw more attention to the midsection, since they are specifically designed to hide the extra pounded midsection and give out a nice silhouette. They are more formal than a single breasted suit and feature 4, 6 or 8 buttons on the front. However suits with 6 buttons are the standard choice amongst fashion aficionados and are considered purposeful.
The defining feature of this double breasted suit is its peak lapel that helps accentuate the shoulders of the wearer. These suits also have extra fabric that perfectly folds over from left to right to cover the whole torso. They have been around here for many decades and they do have a classic vintage vibe, when worn right. They are now available in many sharper styles to meet the individual fashion preferences and desires of modern upscale gentlemen. Whatever style and choice you make, you are sure to look classy with these double breasted peak lapel suits. They are designed in such a way that they make you appear quite taller with broad shoulders than you really are. They, indirectly, accentuate your physique. The sleek tailoring and sharp cuts has made them very prominent and highly preferred these days.
Wide peak lapel
Out of all the peak lapel styles available, peak lapel is the most popular choice. The lapel has two points of fabric that run on both sides of the suit and directly project upwards. They accentuate your shoulder better than any other lapel else. The tips of this kind of lapel are pointed up and probably towards the shoulder. These peak lapel styles would give the double breasted suits an unmistakable look. They perfectly bring out the chest and shoulders and offer a sleek slender look to the wearer.
Button configuration
There is actually a 6x2 style of double breasted jackets available and that is said to be the timeless choice. It, in fact, contains six buttons, but only 2 are used and others are eye-catching nonfunctional units. There are also 6x1, 4x1 and 4x2 button configurations available but 6x2 style remains the best. This unique style results in the most formal yet dateless configuration. It is said that the formality of the 6 buttons perfectly meets the functionality of 2 fastener buttons.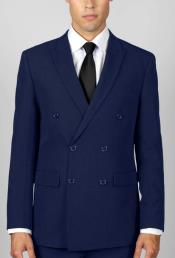 Jacket length
The common rule for suit length is that you should capably wrap your finger at the bottom without creased fabric. When it comes to the fit and length of the double breasted suit, the rules are quite different. If you are looking for a more traditional style, your jacket length should be quite longer. For a more casual look, prefer double breasted suits with shorter jacket length. On the whole, the suit length is mostly determined by the looks and style you would like to achieve. You will never know what looks exactly good on you before you even try it.
Straight pockets
No discuss of suit pocket is complete without remarking the lasting appeal of this straight pocket. They are a subtle connection to the history of menswear and offering an appealing classic touch to both the suit and the look of the wearer. They perfectly go in harmony with the rest of your suit and elevate your look more than you could think of. Double breasted suits do have two straight pockets that are arranged on the same side of the wearer's hands. Gone are the days, when men preferred having breast pockets or jet pockets on their DB suits, but today the scene is totally gone and men prefer wearing suits with straight pockets.
Slim fit
Fit plays a major role in elevating your look and creating finest impression everywhere you go. The sole purpose is to flatter your body shape. These slim fit suits perfectly fit into your body shape with only a very little additional fabric. These slim fit suits come with narrow lapel and softer shoulder pads to give a nice look to the wearer. If you belong to lean body frame, you could possibly benefit more and get the most out of it.
Once you have the perfect knowledge of what makes up a suit jacket right, you are done. Depending upon your individual body shape and fashion preference, you can choose a suit that excellently suits you. Learning the indispensable elements of a suit is the very first step to looking and feeling your best all the time. Finding the balance between classic and modern style is the key to have a sleek silhouette. You can adorn your fashion attitude with right kind of fashion suit jackets. Prefer a style that makes you feel supremely comfortable and highly elevated. Whether you are a traditional or modern styled person, there is certainly a suit readily available for you.