Shirt and Tie Combination

When it comes to combining shirt and tie, there has always been a challenging dilemma for many men. Particularly, if you don't go for a shirt and tie combo often or you have no clear idea about coordinating choices. It doesn't require you to study hard to dress up right, but to stick to some basic as well as simple rules that could help you have stunning look eventually. When you come up with a right combination, you will have standout look that would set you apart from everyone in the fashion game. Continue to read on the article to know about various shirt and tie combinations that would make you appear classy everywhere you go.
Black shirt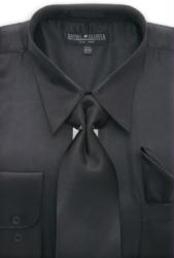 This is actually the easiest as well as standard color choice for men's shirt, when it comes to achieving a conservative and professional look. It is not a stated rule to wear black shirts, but it is the easiest choice that would help you overcome many fashion mistakes and mishaps. These shirts when accessorized with right ties would give you an irresistible exquisiteness and enigmatic appearance. Since black is a universal color it goes well with kind of fashion accessories easily and ties are no exception. For a more formal look, you can go for a solid tie that adds more to your professional image. Since black is the background color, it is good to go for lighter shade tie that could be the emphasizing piece for your entire outfit. Plain white ties are the best choices to give you a formal outlook.
You will also never go wrong with patterned ties because they add a little more life to your whole ensemble. You can choose patterned ties in darker shades, but make sure they never overdo your look anyway. Striped ties in dark shades would give off a classy funky image that is perfect for informal events and wedding occasions. They are sure to give you a sleek style and casual elegance that could catch the attention of everyone in the crowd in just a matter of seconds. Attending an important occasion with a stunning black shirt and tie combination would not just impress yourself, but also everyone around. Whether you are attending a corporate event or a casual dinner night or an informal wedding event, you can create a more powerful look with a black shirt and tie combo.
Burgundy shirt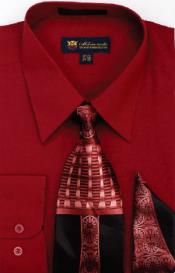 By today's style standards, wearing a burgundy shirt and tie combo is considered extremely conservative, but you can change them to a certain extent. A right combo can create visual interest, convey fashion power and show others that you are in touch with the latest fashion trends. With these burgundy shirts, you will be seen as an innovative entrepreneur from all dimensions, you know. When ties are added, your image would automatically be enhanced.
If you would like to achieve a more classic-modern look, you should team up your shirt with a printed tie. They are sure to add a vibrant personality to your look in a more stunning way. If you choose to wear a burgundy shirt in a subdued shade, you should add printed ties to kick your look. If you wish to have a mysterious look, you can go for dark blue checkered ties. They also give you an aggressive as well as vibrant look that simply can't be beaten. They are timeless and preppy clothing choices that would make you look undoubtedly cultured. With this combination, you can project a mixed aura of fashionable while being traditional. They are the perfect choices, if you would like to feel great and ooze out rich confidence.
If you are attending a formal event, you can try wearing burgundy shirts with striped ties. They could certainly give you an air of style and refinement that can be unmatched anyway. You know, with this simple combination itself, you can project an image of flawless fashion and opulence without too much effort. Eventually, everyone will be envious of your unique style and fashion sense. Simply change your looks by changing your ties and rock all your occasions. A simple tie can do wonders for your look and give you a million dollars look.
Yellow shirt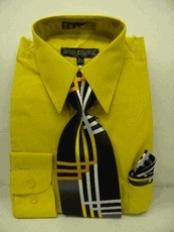 Generally, yellow shirts are meant to give you a more formal and conservative look. But when paired with a patterned tie, you can get a trendy look. Yellow shirt and patterned tie combo would give you a distinguished look of success everywhere you go. By changing the tie you wear, you can easily transform your basic business look into something more stylish and versatile. You can go for either diagonal or horizontal stripes according to your personal fashion preference. Whatever choice you make, they are sure to make you stay abreast of the latest style trends. If you would like to achieve a formidable formal outlook, you can go for light colored patterned ties.
For a jazzy look, prefer wearing ties that are made with many close stripes. As said already, the style you choose shows off your individual personality. Since yellow is a light color, you can easily choose to wear dark ties to give off a vibrant image wherever you go. Whether you choose to wear a light tie or dark tie, a patterned tie on a yellow shirt would make you look extremely attractive and more refined. If you would like to make a lasting impression with anyone, dress up right with a perfect patterned tie. With a single tie, you can appear very modish and take your fashion sense to a whole new level. On balance, best impression matters. You simply can't go wrong with yellow shirt and patterned tie combination. Wear a distinctive combo and look sophisticatedly chic.
Light Green shirt
Believe it or not, light green shirts pop out on the present fashion clothing stage and cater to the aesthetic appeal of many upscale gentlemen. They are timeless clothing articles that could give you a refreshing makeover when teamed up with striped ties. If you would like to add a tint of luxurious as well as aristocratic sense to your image, you can prefer wearing ties with widely spaced stripes. They are minor fashion choices that can make major changes to your look and eventually help you amaze the entire crowd effortlessly. They also accentuate your own style and personality. These stripes come in different sizes and colors and you can choose anyone according to your own fashion preference.
You can also go for a tie with closely arranged stripes that would make you appear extremely handsome. They make a great combination with light green shirts and create a certain level of sartorial sophistication. There are also ties that come with symmetrical designs on dark backgrounds that are just right for special occasions like wedding events, informal dinner parties and something alike. These ties suit your personality well and give you a distinctive image everywhere you go. They also give you a well groomed and well turned out look that can be unparalleled. If you are a man with preppy personality, you can opt for these patterned ties and achieve a refined look.
White shirt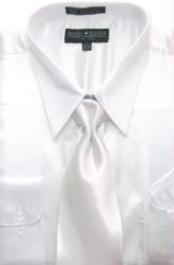 It doesn't matter if you are getting ready for an interview or an important date, wearing white shirts with matching ties is a great way to give you a vibrant pro look. Elegant striped ties on a white shirt can make it perfect for regular workplace or even a casual walk in the town. They are sure to promote an air of authority and professionalism which is just right for office gatherings, board meetings and important conferences. The beauty of white shirt is that it goes well with any kind of tie and gives you a neat look all the time.
Be it a close striped tie or widely spaced striped tie, they could give you a sleek style and refined look when worn with white shirts. Mens necktie is a perfect wardrobe superstar that can change your ordinary look into something extraordinary.Solid ties are also a great choice to pair up with white shirts, you know. Avoid wearing light colored ties with white shirts in order to get rid of clumsy look. Dark solid ties are the best choices that would make you feel you are on cloud nine. With the look you got from this combo, you would take pride in your individual personality and catch the attention of everyone around. They portray a unique sense of fashion, style and confidence, when worn in the right way.
Believe me, when you wear these minor accessories, everyone's focus will be on your tie alone. If you are attending a formal event, you can adorn yourself by wearing white shirts with solid ties to exude class, confidence and attitude. You will be the talk of the town, when you wear this unique combo. Everyone you come across would ask you about your distinctive look and the level of professionalism seen in your appearance. Never ever hesitate to wear white shirt and tie combo, because they could definitely give you the stylish edge you want to portray.
Pink shirt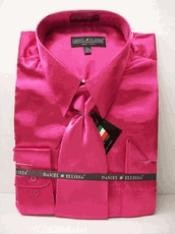 If you are about to take part in a corporate meeting, you should certainly be dressed up in a pink shirt along with matching tie. You can go for either printed ties or striped ties to adorn your pink shirt. Whatever choice you prefer, a simple tie can garnish both your formal and informal looks and make your outfit perfect for just about any occasion. Printed ties when worn with a pink shirt would give you a bold yet stylish look. There are dotted prints and floral prints available to add more to your look. Wearing a printed tie has always been a great way to show professionalism and class. If you would like to show off your masculine appeal to everyone, match your pink shirt with widely spaced stripe ties. They make you look more classic and decent the way you actually are. These combinations are sure to make you look pulled together in any situation, in any occasion.
You can choose to wear any of the above said combinations and achieve a striking effect to your look. They add an element of style to your image and make you look stunningly impressive!