Home > Articles > Role of Traditional Men's Suits
Role of Traditional Men's Suits
The modern day symbol for power, success, & confidence is a well-fitting suit. You should be wearing a suit to your office that projects you in the above-mentioned fashion. Does your suit project you so?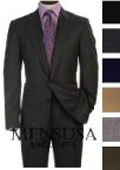 You have many suits available these days with much more versatile designs allowing for unusual colors & cuts. The men's power suit has been brought back into reckoning in the recent years by Ozwald Boateng, a notorious London Saville Row tailor, with his exuberant choice of textiles. He earned his praise among his high profile list, which included people like Mick Jagger & David Bowie, with his contemporary style & attention to cut & detail. Of course, not everyone can afford a Boateng suit as its prices start at around $10,000.
Make sure your suit brings out the best in you. It's always safer to try & keep the cuts classic & traditional even though there are some trendy styles around. Never compromise on your own personal style. You can get suits for a budget of around $200 to $500. You will have to choose suits that are versatile & also which blend in with your lifestyle as well as frequency & occasions when you wear them.
There are some basic considerations you will have to take into account as to when & where & for what occasion you will be wearing your suit.Also, choosing the right style & right fabric form the key. Engraved cufflinks or silk ties form as statement pieces & enhance in putting forward the final output needed for a quality tailored suit. You should however, try to steer clear from floral patterns or overpowering colors. Modern suits, these days, however are mostly made of wool as it is considered to be durable, resistant, comfortable & wrinkle free. Merino, Cashmere & Angora form the most common types of wool. Cotton, flannel & linen are the less popular materials. Always make it a point to get measured for your suit. Because, not only is it uncomfortable to wear a badly-fitting suit but, also, gives an impression of untidiness. You should be able to move your arms freely in your suit & your trousers should be an adequate fit.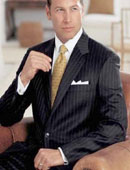 Always get your suits professionally cleaned. What may seem as an expense at that time, will prove you a worthy investment on the long run.The suit chosen should be a perfect fit for the person wearing it & should also suit the occasion. Picking the perfect men's suit is indeed a great task. There are many varieties, various styles, & different designs that would suit different occasions. It is always best to wear a tuxedo for formal occasions like a wedding. Black pants & a black coat with or without tailcoats form the core of a tuxedo. For traditional functions, the vest is usually simple & light-colored & for a more modern function, it is wild-colored & patterned. People generally wear a black tie & a white cummerbund. The coat lapels can be of four types – notch, peak, shawl or any other variety. Traditional coats normally have one or two buttons while the modern coat has up to six buttons. Generally, pants have a stripe at the side. A black bow-tie is always recommended for a traditional occasion.
You can also surf the Internet, read the latest magazines & then come to a decision as to which type of suit you want to invest in. You can decide whether you want to get designer suits or suits from an ordinary store depending on your needs & your budget. Of course, designer suits will be very expensive & will fit you perfectly whereas in the local stores, you can pick the best suit that fits you & get the best deals. After a thorough research about the different designs & styles, you can pick your own perfect men's suit.
Bookmark