Home > Articles > Different types of Men's Tuxedo suits
Different Types of Men's Tuxedo Suits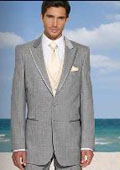 Let us first understand what a tuxedo suit is. It is a semi-formal or a formal suit and is usually of black color and coat with lapels and accompanied by a black bow tie. They are called as a black tuxedo. It is usually attire for formal occasions and it also worn as semi-formal attire. Coordinating all the parts of it would give away a smooth, polished look, which is most certain to impress.
They are well suited for marriage occasions and they are the best wedding suits, one can say. It is made of wool or polyester and there are many varieties of the same. The style depends on the time of day in which the tuxedo might be worn by you, and the level of procedure involved. Lapel styles differ depending on the range of ceremony, one style might just be more apt than another.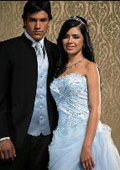 Single breasted styles are actually more informal and casual, while double breasted ones are held in reserve for extremely formal occasions. Tuxedos planned for day wear are generally in dark gray, and frequently have stripes too. Black outfits are not to be dressed up in the day time, as they are considered for official evening events. Given the huge collection of different types of attires for evening events, you might desire to consider consulting a specialist who could really make sure that you look your best.
While they are less regular these days than they used to be, it is necessary to know about the various kinds of tuxedos and when you should actually plan to wear one.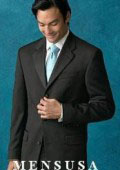 They are of different types and designed for special occasions, and it is significant to be dressed properly when wearing official wear.
If you are very fashion conscious and wish you to maintain a distinctive individual style then the best idea is to opt for a classic rented outfit that will enable you to maintain your unique style without paying a fabulous price for it. But before taking a tuxedo decide on the formality of the event and if there is a dress code for it. If you are going with your spouse, then you should ensure what your partner is wearing because in such parties, the color of your attire should go well with your partner's dress.
Choosing the perfect tuxedo is indeed a daunting task and the selected style should be appropriate to your body type and personal preference. Many people foolishly get lured by celebrity styles and ape their styles which ill-suits their body type. To conclude, here are a few valuable tips on buying a formal tuxedo: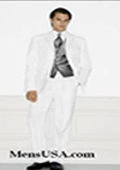 If you are slim and tall, then you are fortunate as any type will suit you... But if you are too thin then double breast coat with big pads on shoulders will be a good option.

If you are of short stature and thin, then the best type is a single breast button down jacket but remember jacket with more than three buttons can spoil the whole look.

If you have broad shoulders then the double breast style jacket should be avoided, as it will accentuate the broadness of your shoulders.

Short stature and obese men should prefer wearing single breast jacket. To draw the attention away from your large waistline, opt for padded shoulder jacket.

Bookmark