Home > Articles > Finding Tuxedo that Suits You Best
Finding Tuxedo that Suits You Best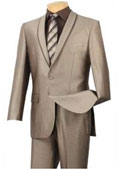 Tuxedo consists of a trouser, a coat with lapels and a black bow tie and it can be a semi-formal or a formal suit. Whether you go for a traditional or trendy look, you need to understand that it must fit perfectly and appropriate to your body shape. A well-tailored and perfectly fitting tuxedo would provide you an elegant look and grab the attention of other guests.
They are particularly appropriate for marriage occasions and are widely recognized as one of the best wedding suits. In fact, single breasted style is meant for informal occasions, whereas double breasted style is specially worn for formal events.
Tuxedos in dark gray with stripes are used for daytime events and black ones are for official evening events. The ideal one should be apt to your body and its tailoring should be exceptional and there should be no pulling, puckering, sagging or drooping. Avoid getting slavishly enticed by celebrity styles as such imitations can prove a disaster.
Here is a quick guide for selecting the right type of tuxedo for your body type:
For slim and tall persons, any style of tuxedo suits will be in order.

For lean persons a double breast coat with big pads on shoulders.

For men of short stature, single breast button down jacket is the right option.

For men endowed with broad shoulders, it is strictly only single breast style jacket.

Short height and stout men should choose single breast jacket.
To determine the exact fit, wear the tuxedo including the correct shirt and shoes. Place your arms at your sides and with fingers extended. The hem of the jacket should be no longer than your middle finger.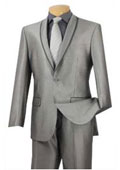 More importantly, the sleeve should grace the top of your hand and your shirt cuff should peek out from the jacket sleeve for about half an inch. Your trousers should gently touch the heel of your shoe.
While deciding on the colors for the tuxedos, be specific as to whether it's a morning or a night gathering. If you are the groom at the wedding, then you are supposed to wear the match according to what your partner is wearing. If you are going to a beach wedding, opt for white one instead of the traditional black.
Regardless which tuxedo you plan to wear, - be it a stitched one from tailor or a readymade – you must feel comfortable wearing it. For this, you must consider the climate and time of year. When tuxedos are matched with appropriate accessories they look absolutely stupendous.
Finally, it is a question of your personal style but try to show some flair - whether it is the style of your tuxedo shirt or the cufflinks and studs that you choose.