Colored pants and denim in unconventional colors is slowly becoming more and more popular. They are seen with increasing frequency on the streets. Men and women seem to have taken a liking to green pants recently, but are unable to figure out what to wear with light green pants for men , so that they look presentable and attractive on the streets without looking garish and outrageous. Style is a matter of personal creative expression, but there are some ground rules that you have to follow. Green has been chosen as the color the season and therefore it's time to fill up your wardrobe with green and when wearing green pants, find out what works best and what doesn't so that you look great, yet unconventional.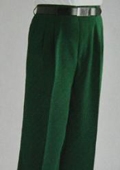 Things to Keep in Mind when wearing Light Green Pants
Neutral is the best way to go when you are wearing light green pants . Not only doe sit make you look great, but it also eliminates the eternal fear of looking commonplace because you are wearing a pair of light green pants with your neutral shirt. Both the elements have the opportunity to shine. Do not be afraid to follow the color-on-color policy of green pants because not only does it cut the monotony, but your outfit look interesting and draws attention of the positive kind. Wear different colored layers on top of you green pants and also accessorize it properly, with good shoes, and maybe a hat or a necktie or anything that you deem fit, in a variety of colors that compliments the pastel of your suit.
Examples of a Few Combinations that you can try out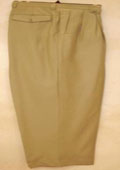 Following are some combinations and examples of outfits that you can wear with your green pants, so that you get a rough idea about what works and what doesn't. One look that never fails is your green pants paired with a navy blue shirt. It might be a polo shirt or e chambray or a dress shirt. Navy blue and light green is a combination made in heaven. You can also wear a navy blue sport coat or blazer over your light green pants, with a pastel colored shirt underneath like reddish pink. You can leave your collar buttons open or wear a nice tie or a bowtie. Light green pants go surprisingly well with multicolored striped sweater with a dark colored base. Wear a white button-down underneath so that it shoes from the bottom and adds more layers to your outfit. Colors like black, brown, white, practically all shades of blue, matte colors (because they go best with pastel) like red, etc. are some classic colors that you can wear if you are trying to figure out what to wear with light green pants.
Related Articles