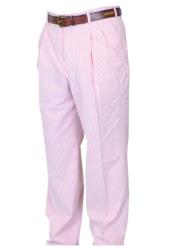 Men wearing pink bottoms are a miracle that you don't get to see everyday. It is a bold and brave decision to sport a pair of bright pink pants and look good. If you are trying to look goof in pink pants, you have to dress up properly or things could go horribly wrong. One of the best things about pink pants is that they are fun, interesting and you are bound to get a lot of attention. Therefore, the best places to sport a pink pant are semi-formal events or a dance, special occasions like Valentine's Day you can find out what matches pink pants for men, where the right color choice can help you make a huge and impactful style statement.
What Colors can you wear with Pink?
There is a grave misconception that pink is not a manly color. There is no need to generalize colors and assign all the colors a gender specific role, because pink can make men look fabulous, if they know how to wear it. When you are wearing pink, your aim should be to achieve balance in your attire. You should not look like you are trying too hard to look good, so the best option is to go neutral when you are wearing pink pants. Your bottoms are unconventional and attractive as it is, so if you wear a brightly colored shirt or t-shirt with your pants, you may attract negative attention. Black, white, gray, light purple, light green and everything that is mild and sober and light look really good when you are wearing pink pants. Colors like baby blue are a great compliment and can actually make you look colorful and attractive.
Tips that you can Follow when Wearing Pink Pants
As mentioned above, you can look absolutely brilliant when you wear pink pants, but it could also be a disaster if you don't know What matches pink pants for men . There are some pointers that you should keep in mind when you are trying to rock an unconventional style statement. The first cardinal rule is that do not match your bright pink pants with a shirt as bright. If you are able to mix and match the brightness with a soft, demur color, your attire automatically look balanced instead of outrageous. When you are wearing pink pants, try to avoid using pink in any other component of your attire. You could make the pants look like a million bucks if you just pair it with a shirt, a tie and a simple suit or a sport coat. You have to give time to yourself to get used to the color pink, so gradually work your way up. However I you feel confident enough, you can wear your pink directly.
Two Way Matches