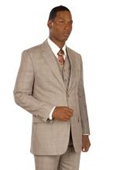 Windowpane is a widely spaced check pattern that gets its name from its resemblance to—you guessed it—windowpanes. The "heart," or the inside, of the check tends to have a three-dimensional look, often with a subtle hounds tooth-like texture. The check is slightly rectangular. The English-inspired pattern, when done well, suits done with window panes look relaxed, yet dressy. Although the pattern is classic, the approach is modern: bringing the old school treatment to modern, slimmer cuts. Many people are wondering what has led to the rebirth of these suits and how to wear windowpane patterns, how to include it in their wardrobe?  
 There's been a move toward British heritage-inspired dressing recently, particularly in menswear.  On the runway, many designer brands are taking a classic approach to windowpane suits . In Canada, the trend was reinforced by Prince William's royal tour following his marriage to Kate Middleton.  A very smart dresser, William was spotted in a double-breasted windowpane suit, representing the English style. If you desire to try these suits on yourself, then MensITALY's online shopping portal, www.mensitaly.com is going to be a good start for you. This is a brand that is popular for their experience and excellence in mens apparel.
And while classic style is enjoying a comeback, younger and more sartorially savvy men are wary of wearing anything that seems too serious. Windowpane checks are a nod to classicism but they have a sense of whimsy that makes them appeal to a younger or more fashion-forward customer base.
Let's start with the cut: An English cut is your friend. That's because it's tailored to the body with higher armholes, and sides with vents. A trimmer, shorter construction with an English Shoulder—more rope, or a Sartorial Shoulder—more rounded. The slimmer cut modernizes the old-fashioned pattern. Next, you should try the pattern in grey tones: "Shades of grey are dominant right now, with blue tones also popular, but not navy. It's easier to get a little bit of colour in a windowpane suit . also when looking for the checks, you must for something between 4.5-5cm checks, as this is considered the most universally flattering.
And finally, accessories: The shirt should be a Spread Collar because it fits the symmetry of the garment. It will help balance the proportion of the slim-fitting suit. Don't let the bold check deter you from wearing a pattern on your shirt. A trend in suiting tends to be to go with a stronger shirt pattern and plainer neckwear- something that coordinates well with the inside of the windowpane check.
If you opt for a patterned tie instead of, or along with, a patterned shirt, try ditching the boring stripes for something more modern. In keeping with proportions, however, ties should be slim and tied in a four-in-hand knot. A bold pattern is nothing to fear this fall. Just make sure you balance proportions, have fun with colors, and keep it tailored, and don't forget your pocket square! Now you know how to wear windowpane patterns and rock any occasion!
Two Way Matches