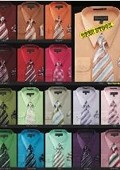 A man's dress shirt can smartly structure his expression during a presentation and afterwards absorb his perspiration throughout a hard round of questioning.
Whether you are choosing for yourself or someone else, choosing a man's shirt is much more difficult task than it sounds. Let us see few important things that need to be thought of before selecting a dress shirt .
Firstly try to know your size. That includes two numbers. Firstly neck size and secondly sleeve length. Measure your sizes so that you can get an exact fit.
Further there are three types
Athletic – Also known as slim or taiored fit.
Regular – They are a little looser than slim fit.
Full – These are especially for men with larger stature.
Colour: Before starting any thought, please wait for a moment, and remove all those standard thoughts about the colour of a shirt. Ask yourself, why are you getting this shirt? I am thinking about you! Your comfort! And most importantly, the 'best dressed' attitude, that I am trying to give. Think about the occasions when you are going to wear it and depending on that decide your colour.
Light whitish for office,
goody flowery for picnic and beach parties and so on…..
Fabric:
Cotton is considered as the undisputed king of the mens shirts . As it is the only material that will give the ultimate comfort that a man will want, when worn so close to the body.
Man-made fibres also play major role in men's wear. Being wrinkle and stain resistant make them most preferred. Also, it's a viable alternative for budget minded people.
Lastly silk. Very rarely used as it has a high maintenance cost and less durability. Also doesn't suit everybody and any occasion.
Patterns:
Plain shirts with light colours is the most versatile and preferred option in all men. Mostly you can't go wrong with that typical light blue as one of your favourite office wear.
Next most popular option is stripes. This pattern looks excellent with solid coloured suits.
Last pattern which is less suitable for office wear suits is checked. This is also preferred by lots of people to show a casual attitude.
Style: Collar is the most visible part of the shirt. It actually frames his face and boosts his natural sturdy look. Also gives a particular proximity to his face. In this article, let us only discuss about the turn down collars. Two most prominent types are
Point Collar: Advantage of this style is, it gives a smart boost to the overall appearance.
Spread Collar: Also called 'cutaway' collar. They look better on men having long shaped face.
This article can continue for pages, but to add a single line conclusion, I will say: A style of being manly is all that matters the most!
Two Way Matches