Home > Articles >Buy Mens Fitted shirt For An Elegant Look
Buy Mens Fitted shirt For An Elegant Look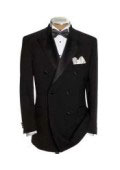 Any of men's formal wear is incomplete without a perfectly matched and well fitted mens shirt . A shirt forms an important part in the world of men's wear. A well matched and perfectly fit shirt gives a suave look to any of the men's wear, especially the formal clothing, suits, tailcoats, blazers, sport coats and tuxedos. As the formal wear for men differs according the nature of the event and their design, a shirt also differs matching different occasions and suits perfectly.
The few main and most common type of shirt collars are- turndown collar, button down collar and wing collars.
Turndown Collars also known as laydown shirt collars are one of the most common form of collars found on any shirt. In this specific design, the collar is turned down giving the look of a triangle whose angles vary according to individual. Turndown collars can be further narrowed down as- POINT COLLAR is the most commonly found style of shirt collars around the world. Point collar shirts are very versatile and can be worn with both formal and casual wear with equal elegance and comfort because of its neutral looks. The collar is cut in such a manner so as to make points of the collar very close to give that pointed look. This is the classic formal shirt collar that goes with any suit and with both necktie and bowtie.
SPREAD COLLAR is the other form of famous turndown collars which are equally famous and common in the men's clothing. They are also known as cutaway and Windsor collars. Spread collar shirt can be further classified in various designs and styles and reveal more of the upper shirt and tie than a point collar shirt. Since there is a wide distance between collar points, a spread collar is not worn without a tie, making it suitable only for formal occasions.
Button down collar is the second type of collar. As the name suggests, a button down collar is attached with a shirt by two small buttons on either side of the collar. Button down collars can be found in both 0 point collar and spread collars. Button Down Collar is the least formal among different types of shirt collars
Wing Collar, the third type, is commonly known as collars worn with mens tuxedo shirts . Winged collar tuxedo shirts are the most formal types of shirts and cannot be worn with any casual wear. Although winged collars are losing their popularity to comfortable turndown collar shirts, yet they remain the classic collar perfect to be worn on any formal occasion. While a tuxedo with turndown collar looks good, a winged collar exudes much more classy and formal look. Turndown collars are associated with business and casual wears whereas a winged collar shirt is strictly to be worn on formal occasions and are very formal in nature. A winged collar tuxedo shirt reminisces the golden era of menswear.
Our online store offers an excellent range of wing collar tuxedo shirts in different fabrics that allow one to choose the shirt according to his need and choice. Our range helps in giving your formal wear a perfect touch. Enjoy a wide range of classic men's wear and drive back to the golden period of men's clothing. Enjoy shopping with us.