You surely think that looking fashionable and stylish means you know a lot about fashion and style. However, style and fashion mean much more than just looking good. If you want to master the art of dressing up according to the occasion, your persona and time, you have to go through a lot of experimentation. As you know that practice makes people perfect, you have to collect some uncommon and unusual attire along with the common and popular one.
Once you get to know how to blend modern and traditional look through your outfit, you will be considered as expert of the fashion world. However, the advent of ZeGarie grey suits made the work of fashion and style conscious people easy with their exceptional modern yet conventional clothing items.
Our website www.mensitaly.com assures you to get the ideal fusion apparels to suit your personality, image and budget.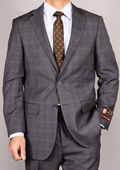 Importance of Fusion Attire
Some people follow the latest trends blindly that is not at all recommendable due to possible risks associated with it. You might have noticed that not all trendy attire suits all people due to their distinct age, profession, physiques and purposes. Therefore, the best way to deal with a situation is to not only stay up-to-date with trends, but also looking smart with your original and personal style and fashion sense. Nowadays, with so much experimentation is going on in the fashion world, popular designers and brands are coming up with their fusion clothing collection that provides the ultra modern look by keeping the conventional note underlying it.
ZeGarie 2-button modern fit suit are one of the fine examples of fusion attire that can serve both your personal and professional necessities.
Our website www.mensitaly.com is proud to serve their potential customers with amazing fusion garment ate very inexpensive rate.