Home > Articles > Tips on How to Wear Vintage Tuxedos
Tips on How to Wear Vintage Tuxedos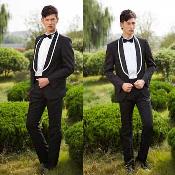 A tuxedo has become a common staple to everyman's wardrobe. It is very simple to wear and at the same time it gives full comfort to the wearer. It is essential that one must know how to wear Vintage Tuxedos. It is designed to resemble a different era's style. You can look best in your vintage outfit if you follow some simple tips given below:
Look for a tie that perfectly complements the color of your attire. If you plan to wear a blue tuxedo then get a patterned tie which includes a blue that perfectly matches with the color of the attire. Some people wish to wear a solid tie then it is best to look for a color that complements your outfit without matching.

It is always worn over white shirt because the shirt will keep the outfit from looking too cluttered or gaudy. Therefore, you must look for a good quality white that perfectly matches with the design and style of it.

As far as footwear is concerned it is best to opt for the shoes in those times. It can make you look elegant and trendy. In case you don't find this kind of footwear either look for a shoe that is stirred up by a classic shoe.

Prefer wearing darker socks with this outfit as it makes the blazer look more formal and seamless. Try not to wear white socks. The color of the trouser must match with the socks.

If you wish you can use hair gel to back brush. This can bring a sleek look to the wearer. So, these are the simple tips on how to wear this outfit. You can easily follow the above mentioned tips if you want to look wonderful in this attire.
All you have to do is find out an authentic store and that you can do by making some research through internet. Before you make your purchase ensure that the store provides safe payment system so that there is no possibility of losing money. It is advisable that one must check out all collections available with the store by visiting the online site of the store.
On purchasing good tailored fitting attire and wearing them at different occasions to make a style statement is not the end. You must take proper care of your tuxes if you want them to last for long. You just need to put little effort like cleaning them, ensuring that all the spots are gone and then keeping them in a safer place. By doing these little things you easily increase the longevity of it.