Home > Articles > Mens Colored Dress Shoes: Which Colors Men May Have
Mens Colored Dress Shoes: Which Colors Men May Have
Generally, people buy that footwear which can be worn in various occasions. Shoes are of many types and they are formal, casual and sports. Footwear that falls under the category of formal attire is termed as the dress shoe. This kind of shoes is in much demand and comes in multiple designs and styles like Oxford footwear of handcrafted black leather, ankle booted pointed, slip-ons, square toes heels pr lace-up. Some people are very fond of high heel as the short height man looks taller.
These days, Mens colored dress shoes have become a staple to everyman's wardrobe. This footwear is needed for special occasions. Let's talk about what are the footwear colors that man may have in their wardrobe. Most frequently used color is the black. Black, as the color of shoe, is favorite to almost every man.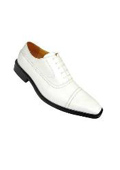 Soft fine grained colored leather footwear has occupied an important place. This color can be easily matched with many suits. Then another color which is very is brown. This footwear will be great on khakis or brown slacks. Another color whose popularity is on rise is chestnut. This footwear will be a great combination if paired with woven fabric or silk or tweed. This chestnut shoe can be matched excellently with any earth tone colored dress. Another shoe which is very classy in appearance but less common among men is white. White leather shoe can perfectly be paired with white blazers with shirt of any color.
There are some colors which you can use only occasionally. Burgundy would be an excellent choice. It can match up with any brown, black shirt or tie or belt. Mens colored dress shoes also include the oxblood color footwear. This can be a great combination with black suits or earth tone color suits. Another color which you may opt for is taupe. It is a brownish gray color which will not go well with earth tone suits. These are very uncommon color and should be paired carefully. Or you may look for black and white combination of shoes which can be worn with white and black suit combination.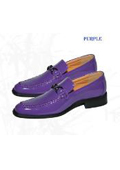 So, here are given some colors from which you may choose. However, when it about buying Mens colored dress shoes you need to keep certain factors in mind. First thing that you need to take care is the color. At first decide whether you want dark or light color. Or you are looking for a mix combo. It is best to go for a single color as the multi color will be a casual wear. Single color shoe can be worn for any formal or casual. When buying you must choose a color which can be best paired with more than two to three suits. Then choose a design and material. Materials include leather, crocodile or alligator skin and rubber. When the color, design and material have been selected you can do the purchasing.