Home > Articles > Things to Check While Purchasing Mens Italian Shoes
Things to Check While Purchasing Mens Italian Shoes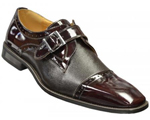 Just like clothes, shoes also play a dominant role in making you look smart and trendy. Many people are of the opinion that the footwear made in Italy is ideal to make style statement. Talking about Italian footwear it makes one think about high quality, perfect craftsmanship and exclusive style. Since the designers in Italy well understand the anatomy of legs and feet they could able to develop a good all over globe for creating high quality and stylish shoes. They are widely appreciated for creating uniquely designs.
Mens Italian shoes are available in multiple styles such as full-length boots, sandals, mid-calf boots, slip-on, loafers and wedges. Thus you have wide option to make your selection. There are some salesmen who may try to sell creaky and shiny shoes by referring them as the finest Italian footwear so you have to be careful of this kind of purchase.
Italian shoe means you are purchasing best quality footwear which genuine and stylish. Italian craftsmen make use of the traditional method while manufacturing and tanning this footwear. The lining and the upper portion of the footwear is hand sewn. They use best quality materials to ensure durability and quality. Presently, far Eastern footwear designers are also manufacturing handcrafted footwear.
Mens Italian shoes are available in various styles like leather made, lace up and dress shoes. Each style is fashionable and sure your heart away. This footwear makes one look smart and trendy. The dark brown leather footwear is in great demand and people look for this collection due to its sleek appearance. Moreover, the brown calf leather model comes in wide ranges of prices, so it's easier for you to make the selection. The materials used for manufacturing are quite soft in texture and provide extreme comfort to the wearer. These collections come multiple colors such as tobacco, brown and black.
To get the best shoe you need to check certain factors at the time of purchasing so that you get the perfect footwear. You must check out the stitching before you buy the footwear. If you get genuine and authentic shoes then it will have perfect stitching and you don't have to worry about its quality and durability. Authentic makers are very attentive and manufacture the footwear with great care and sincerity. Then you must check out the quality. If the footwear is authentic then it should be made out of real leather which ensures high durability. Lastly make sure that you check out the tag. You must see the name of the brand. There are some fake stores which may try to sell fake products. Therefore, you need to be careful when you buy footwear.
These shoes are stylish and nice-looking. It makes one look smart. It can be worn at different occasions. There are some reputed online dealers that provide wide varieties of Mens Italian shoes. You just need to find out a reliable source so that you can get authentic products.