If you are planning to attend any wedding soon, you have to first ask yourself are you ready to dress according to the celebratory occasion? While women know how to dress up for wedding in glamorous way without upstaging the bride, men feel clueless about their outfit which will bring out the best in you yet will not overpower the outfit of groom. Moreover, several men have list knowledge about what outfit is acceptable to what kind of event and all the other minute details that can make or break your appearance. Your first step is to know whether you are attending traditional or wedding suits for modern wedding ceremonies as you have to dress according to the nature of occasion. Then, you have to know, the venue, timing and season of the wedding. As many couples are nowadays opting for theme wedding, you have to find out whether your invitation stated any kind of dress code or some hints to explain the wishes of couples.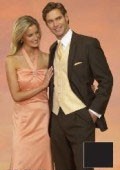 Deciding Factors
Knowing the timing of wedding is important as your attire should vary according to it. You might have noticed that people change their outfits keeping in mind whether they are taking part in daytime or evening event. Moreover, finding out the season of wedding is vital to decide the style and fabric of your attire to stay comfortable and look presentable all the way. Moreover, choice of your attire largely depends on the venue of wedding as it depicts the nature of occasion. For example, if you are attending church wedding, you have to stick to formal wear whereas attending beach wedding means you have to wear smart casuals, semi-formal, informal or beach wear. When you are asking what men should wear to weddings, it denotes that you are confused about making the right decision. In today's world, you will get plenty of options available in the market to find out the suitable outfit for you.
Different Look
Daytime Outfit – while you are attending daytime wedding, you need to get the overall feel of ambience keeping the outfits of couples in mind. You can wear colorful suit or tuxedo that will not dominate the color of wedding outfits of couples. Generally, people prefer to wear light shades along with simple yet elegant style suits or tuxedos during daytime. While indoor event requires you to wear coat or jacket, wedding in outdoor settings do not need one.
Evening Outfit – being part of an evening wedding ceremony is surely a relief as you can play with dark solid colors especially with the classic black and white combination. Your chosen evening attire should make you look sophisticated with proper accessories.
Now, whether you want to wear suit or tuxedo in wedding that entirely depends on your personal taste.