Home > Articles > Vital Tips for Selecting the Ideal Wedding Suit
Vital Tips for Selecting the Ideal Wedding Suit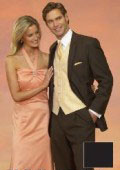 Finding the ideal wedding suits can be a daunting task as the choice is far too wide. Unlike women, men are generally less fastidious when it comes to clothing and do not plan adequately what they should wear on the wedding day.
First of all, you cannot decide on the wedding suit unless you are aware what the budget limits are. If you have a liberal budget then you will be able to select a costly suit. Please bear in mind that a man's suit is expected to reflect his personality, status and standing in society.
While selecting a wedding suit the foremost thing to be considered is the wedding date. If the wedding is taking place in winter, then the wedding suit fabric can be slightly heavier like tweeds, wool or cashmere. If the wedding is slated for summer, then cotton or linen fabric would be the ideal choice.
If you are planning your wedding to be a great event attended by a large number of invitees, then custom suits should be ideal. If you decide on a custom made suit, select the fabric and fix the tailor at least one month in advance of the wedding date - so that you get well-fitted suit with ample time for alterations. If on the other hand, you have decided on an informal wedding ceremony then you can select a casual suit.
In the present age of computers, the choice of a wedding suit is made easier with the aid of Internet. Browsing the Internet is a great way to find an exciting range of wedding suits. The internet also facilitates comparing different styles of wedding suits and from a number of retailers.
Furthermore, many of the stores that you will come across on the websites will offer special discounts or bargain deals such as a free shirt with every order. But it is necessary not to be over-influenced by sales gimmicks but to find a company with an excellent track record and reliable customer service. You can call up some of the online sellers with your set of questions regarding different types of men's suit. Explain to them your body type, your price choice and the time and nature of you wedding. You will surely receive the expert advice and timely response.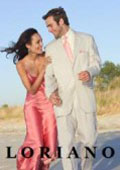 While selecting a wedding suit, make sure not to opt for a tight-fitting suit as you may have to spend a long number of hours wearing it. Select a wedding suit that appears to be stylish yet comfortable. Men who are tall and somewhat slim, a single breasted three to four button jacket would be ideal. Long legged men can also opt for tails. Cutaways and low vests should be universally suitable regardless of the types of body frames.
It is good to know the common mistakes that men commit while selecting a wedding suit. Avoid shops that do not take exact measurements. Men's suit is all about proper cuts and fittings. Plan well ahead as your suit would not be perfectly stitched right in the first instance. Allow enough time for trial fittings. It will be a good idea to do some window shopping. This way you will get to see what is current trend in the market and you can pick a style that you like most. While doing window shopping also look at the price tags of each wedding suit so that you can get an idea of the cost.
Please remember that your wedding suit should be something which you can wear even after the wedding is over and it is not a one-time affair. If you are planning to wear the wedding suit only for the D-day, then it is preferable to hire a good quality wedding suit.
Bookmark