There are always something in our wardrobe which has a special place in our hearts and that special Something is invariably the classic black velvet blazer. The significance of the black velvet blazer is that it is classic in its outlook and never goes out of fashion. Buying a black velvet blazer does not end your fashion conquests though it is just the beginning.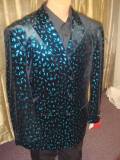 After having bought the jacket the next important question is what goes with black velvet blazer although it is one of the most versatile dresses and can go with almost any dress but still goes even well with selected merchandise. The rich texture of velvet adds sophistication to your dressing style whether you are using it for cocktail parties, casual event or as office attire.
Smart pairing is must
The classic black velvet blazer can be worn with a white shirt and a skinny black tie. You can also wear gray shirt and bow tie with a patterned look. You can pair it up with smart slim cut dark denims. Wear stylish leather shoes with it or even stylish leather loafers. The black velvet blazer works well in a party atmosphere because it looks dressier and cool. You can keep it more casual than formal attire by wearing a turtle neck or cable knit sweater instead of a collared shirt.
As you can see there are various combinations and pairings you can try with black velvet blazer but remember the thumb rule shirt could be light coloured and pants or denims need to be of dark shade. For formal attire tie or bow should be patterned in design.
How to wear velvet
1) A full velvet suit can be a little daunting for some men so it's okay to tweak. Instead of wearing the full suit, you can do just the blazer and a pair of well tailored pants.
2) You can pair your velvet blazer with a nice bold patterned button down shirt and tailored pants. You can also dress velvet down with denim for a cool and casual effect. A white shirt looks effortlessly cool and is also good way to make an impact.
3) Lastly, keep it simple. If you're wearing a velvet suit it's already making a big statement, so you would want to simplify the rest of your look. You don't want anything else to overpower your velvet suit.
Upkeep of velvet blazer
You need to be very careful regarding the upkeep and maintenance of the blazer. To keep your blazer in tip top shape you have to roll lint brush before you leave home. It should always be dry-cleaned and should never be ironed. If the velvet develops some wrinkles than set the iron to low steam to pull the creases out. Be sure to hold the appliance half inch above the fabric and keep it moving so that it does not stay in one place for too long