Home > Articles > Stand Apart in a Crowd with Mens Velvet Blazer
Stand Apart in a Crowd with Mens Velvet Blazer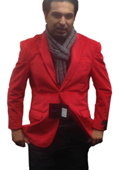 It can be very difficult finding the right velvet suit that will suit your body type and your personality. However, once you do fin a velvet suit that is perfect for you, it automatically becomes an asset. Mens velvet blazer are available in a variety of colors and cuts, that can suit any occasion, whether is a quintessential business meeting or a semi formal or formal event, and can be worn with almost anything.
Velvet blazers complete the look
A velvet blazer can make any man look stylish and sophisticated effortlessly anywhere. Whether you want to look formal or laid back, a velvet suit cannot go wrong and you can look chic whenever you want. If you are attending an evening party that demands that you look relaxed and fashionable, then pair your blue velvet blazer with a pair of denims and you are good to go. But if you have a formal event that needs attendance, then a pair of well-tailored trousers with your ever-dependable velvet blazer is all that you need.
Automatically makes you look distinguished
A velvet blazer is soft and fits perfectly, by hugging the right parts of the torso. The material that the suit is made of immediately lends an expensive feel to it.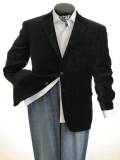 It is essential for the men today to have at least one suit in their wardrobe that they will be able to sport in more than one place, and at the same time, look different every time they do wear it. There is no better example of such a suit than a velvet blazer.
Mens velvet blazer are available in various colors like wine-red or dark blue and the classic black and several more colors so that you have no difficulty finding a suit to match your tastes. You can pair the same jacket with a polo shirt and denims and with dress pants and a button down shirt with equal ease. Sporting a well-fitted velvet blazer naturally increases the elegance of your look and we offer a wide variety of blazer that you can choose from to make sure that you are the centre of attention wherever you go.