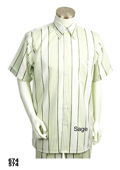 When looking to make the best first impression, it's vital to match your personality with the choice of clothes that you would be wearing, match your suit with the shirt that goes perfectly well with your natural skin tone too, because you don't want to look too bright or too dull for the event. When it comes to looking perfect for a Board meeting, events or Conferences it is most important to match your shirt with your black suit, trust me it will be confusing to pick the right color to go with your suit.
Here are a few points that would help you to make the right choice:
The best and the most preferred combination that we come across is the Black suit Black shirts teamed with a white shirt, this is the ultimate classic look and before you imagine too much, it's better to try it on and see if it matches the occasion and the time.
A great and sure way to stand out in a business meeting would be to team up your Black suit with any natural colors, like gray, green or pink; this will give you a Modern look. Don't go for colors that are too bold.
You can also try a light or pale yellow Shirt; this will look fresh and precise. You can even try bright yellow shirt with a black suit too, both will look equally impressive. Let your looks do the talking!
Basic colors like Blue and light Lavender are definitely safe for any occasion. These colors make you look more relaxed and add mileage to the look.
If you want to look bright and cheerful you can try wearing a Savvy Black Suit with an Orange shirt, this will definitely make you look more colorful and young.
A Black suit Black suit with a cocoa brown or chocolate brown shirt looks polished and yet modern. It will surely bring an intense look to your personality. Having said all this, I am sure that we have lot of trendy and variety of color combinations offered and is easily available to suit any occasion, and you can establish a perfect Suit look by trying on different colors before you pick the right one to go with.
REMEMBER a Black Suitisn't just for funerals and weddings; you can make it more versatile.