Buying dress shoes for your buy may an exciting and fun process because you are shopping to make your little one look all grown up and dignifies. Children may be required to wear formal clothing in a number of occasions and you have to ensure that you buy them proper dress shoes so that their attire looks complete. Different people have their own different standards of judging the best dress shoes, some look for a comfortable sole and heels while other are more particular about size and overall comfort. The best part is that you won't have to hunt too much when trying to buy dress shoes for you child, because there are a number of stores that stock and sell large collections of shoes and you also have the option of buying online.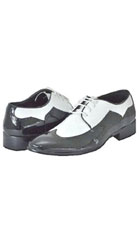 Choosing the Shoes according to the Heels and Soles
When you are trying to figure out How to Find the Right Boy's Dress Shoes, you have to not only consider style, but you also have to make sure that it is safe so that your child does not trip and fall. Most dress shoes for children are made without heels whereas adult shoes are made with half an inch or a full one inch heel. If you are buying shoes for children, you have top remember that their bones are still soft and malleable, so the soles of the shoes should be made with a softer variety of rubber to mould to the shape of their feet.
Comfort and Style of the Dress Shoes
When looking for comfort in the dress shoes, you have to look for certain features such as tongue padding that helps protect your child's feet. Sidewall padding that is put in adult dress shoes may not be present in baby dress shoes because they add to the general discomfort of the child. You have to find an in-sole that provides maximum comfort to your child. If you are unable to find a pair of shoes that have a comfortable and light sole, you can easily purchase one separately. There are different types of dress shoes that you can go for, for example, the Oxford dress shoes that are the best option for toddler and children. There are also the loafer dress shoe and the slipper-like dress shoes where there is no hassle of tying laces, but is often not preferable to the classic Oxford shoes. When you are trying to figure out How to Find the Right Boy's bolano Dress Shoes , you can also consider whether you want buckles or laces on your child's footwear, depending on which one is a safer option. You can weigh all your options, and then make your decision.