There are some important factors to be taken into consideration, while shopping for a leather jacket. Whatever it is, you are a man trying to buy a leather jacket, or a woman trying to buy one for your boyfriend. Choosing an ideal leather jacket is not an easy task! Here I am again with a set of tips about how to choose a leather jacket for men.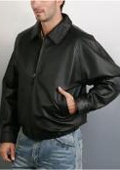 Sometimes you want to buy a leather jacket for casual purposes; whereas at some time, you may want to get a leather jacket that goes with your everyday business attire. Three things needs to be taken care of while choosing are as follows: Style, A perfect fit cut and its comfort.
Things that needs to be looked in while choosing a leather jacket:
Flattering cut:
There are three popular cuts. One is Men's bomber jackets, second is motorcycle jacket, and the third one is distressed leather jackets. Each will fit differently.
Perfect Colour:
Brown leather jackets look classic and more casual; this makes them great for those men who have a more laid-back style. They can also be paired with jeans. Black leather jackets makes perfect business attire, especially on pinstriped dress pants, they also lend a rocky touch to jeans and casual pants. One more thing that needs to be considered while choosing colour, is your wardrobe. Choose one that goes along with most of your in house cloths. If you are a fan of bright colours or black and white then get a black leather jacket; for earthy tones and greyish shades, choose a brown leather jacket.
Quality:
There are two types of leathers used, lambskin or cowhide. Lambskin is softer and shiny, and it generally offers quite a dressy look. It's durability is less as compared to cowhide leather. Also it shows tears and scratches very easily. Cowhide leather has the most rugged look and it also ages well.
Wardrobe:
Leather jackets are quite expensive. Nobody will really like if they sit ideal on your wardrobe. While choosing one, reconsider the colours of the cloths that you have in your wardrobe, and choose one that suits most of them. So that you can use it every now and then!
Comfort:
The most important factor that should be considered before buying is comfort. If not comfortable enough, it's going to sit there on your rack for years. A dead investment!
Before you buy your leather jacket, look around, study the recent trends and most importantly take your time. Decide anything wisely, it's an investment. They are quite expensive, if you go for prime quality. One last thing to say is, buy exactly what you are looking for, not something that is similar to what you want!