Home > Articles > The Versatile Leather Coats For Men
The Versatile Leather Coats For Men
Various kinds of coats are worn for different purposes. There are woolen coats, summer wear coats, wedding coats, casual coats, leisure coats and many others. But the main aim of wearing these coats is to keep warm in cold weather and to protect oneself from other weather conditions while offering a smart and sophisticated look. Coats have a number of utilities especially the trench coats for men.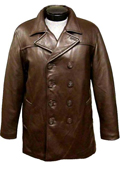 Designers are always working hard to offer customers not only stylish attires but also such coats that have great utility. Trench coats for men are a favorite wear of men who travel outdoors in all weathers. The unique coat looks very dignified and is versatile in nature. It is long attire and mostly goes down to the knees or ankles according to the wearer's choice. It is crafted from the best quality wool or leather and is one of the best coats that you can wear in winter when you go out for your night walks or enjoy a Christmas party in the chilling cold. It keeps you dry as well during the rainy days and as it covers the entire body there are no chances of getting wet even when there are heavy downpours.
Apart from making the trench coats for men so versatile, designers have given them an amazing look. The fits and cuts are trendy and was originally made of polyester to fight the rains and worn by soldiers. Today they are worn by all categories of men and you will find a variety of colors, designs and fabrics in this type of coat. You can choose from the black, brown, beige, gray and midnight blue colors to portray your personality and always look smart and handsome. Cotton trench coats for men are also available that are very comfortable and you will get the trendiest ones that are double-breasted with about 10 buttons.
Leather coats for men have become a must-have in all men's wardrobe not only for the advantages that they offer but also as a style statement. Celebrities have taken a great liking for this designer trench coat and so you will find a great variety at the stores today.