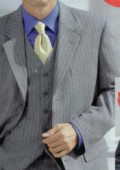 Apart from black and white, gray is the next best choice of color when it comes to dressing formally. Gray seems to be as neutral and as formal a color and black and perhaps a little more than white. It is a color that is seen in almost all spheres of life including the office, the board meeting, the evening party, a formal dinner and even weddings. mens gray suit jackets look sharp and also break the monotony of black suits when worn at a gathering. There are different shades of gray, including the darker shades that almost border on black and the lighter grays. You should know What Colors Can You Wear with a gray Suit if you want to make sure that you look great in your suit. the colors that you wear should be complimenting and also you should look like you belong to the place where you are wearing the gray suit. you have to choose your colors in a manner that makes you stand out, without you having to go overboard.
Wearing your Gray Suit with Black and White Shirts
The dress shirt that you wear along with your suit forms the basis for your entire attire. You have to make sure that the shirt that you are wearing compliments the suit so that you can keep adding elements without having to worry about viciously contrasting colors. In case of a gray suit, you have to make sure that you wear a monochromatic color, one that is as neutral as gray. This means that you can either wear a black or a white shirt. A white shirt makes more sense because black may contrast sharply with your suit if it is of a lighter shade of gray. You can also wear very light shades of other colored shirts such as pink or purple. If the colors are too bright, they will overshadow the gray and make you look unpleasant.
Colors of the Accessories that you wear with your Gray Suit
Once you have created a base for your gray suit with a light colored shirt, you can wear whatever colored accessory tat you want. This is the best part about a gray suit. Your white shirt and gray suit can compliment almost any other color, such as a bright purple tie, or a deep red one, or leather shoes or a deep blue satin handkerchief. The possibilities are endless if you know What Colors Can You Wear with a gray Suit. If you restrict yourself to the conventional and sometimes boring black and white when it comes to choosing your shirt, you can experiment with whatever color you want while accessorizing your dapper gray suit.
Two Way Matches