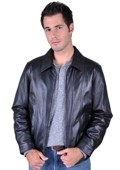 Mens jackets always make great fashion apparel, they are not only durable but also stylish. Men are particularly fond of leather jackets as it makes them feel smart and also comfortable without a lot of effort. The other great aspect of these jackets is that they keep you adequately warm when required. If you take good care of a good quality leather coat , then it is surely going to last you quite long. In selecting a jacket, the first thing you have to look for is its cut, and fitting. And so that you never get wrong in this procedure, the best place to buy is going to be www.mensitaly.com, the ideal online shopping portal of MensITALY. With their experience in mens apparel, you will only be helped and never in the wrong ally.
Now coming to the question of most people, how to choose the right size leather jacket, it is best advised to get your body measurements right yourself first. This way you will never be fooled by any seller. The measurement aspect becomes more important when you are buying the clothes online. Therefore to get started, you will need a tape measure and a pen paper to write down the measurements. All the most important measurements are mentioned as follows:
* Your chest measurement
* Your waist measurement at the point of your belly button
* Your hip measurement
* The measurement around your torso, at the point where the bottom is the largest
* Your shoulders measurement, from your neck to the top of your arm
* Your arm length, this would be the length of your jackets sleeve technically
* The distance between the collar bone and your waist
* The distance between the collar line and your crotch, this is known as the inseam.
While measuring your body, make sure that none of your measurements are either very lose or very tight. Therefore there should be space enough to fit one finger inside the measuring tape.
A lot of the measurements for leather jackets also depend on the kind of cut you are opting for. The commonly kind of popular leather jacket cuts are bomber cut, motor cross cut, and the distressed jackets cut. Each of these jackets has their own speciality. For instance, a bomber jacket is considered for its roomy chest space, and fitted in the waist. This is one kind of jacket that is typically meant for men with broad shoulders. The motor cross jackets fall straight down up to the waist with metal hardware and zippered pockets. These are perfect for the bike rides, and hence the name. If you desire to go for a vintage look then the distressed jacket style us your cup of tea. Needless to say the leather jackets look their best in tones of brown or black. Now you know the a-z of how to choose the right size leather jacket, you can thank us later!