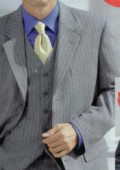 Many a times you must have heard people claiming that dressing men is much easier than dressing up women. But this statement is surely far from the truth. Because if anything, it is a worse situation for men, because they have less stuff to play with, in their wardrobe unlike the fortunate women. Plus men need to wear formal wear more as compared to women, so for everyday need to get an innovative, versatile impressive collection is quite tough. And it is precisely for these reasons that men should be more careful to pay attention to what they do with their linen suits suits.
Coming to the question of how can I Create a Work-Friendly Wardrobe on a Budget, it is very important to shop from a trustworthy brand. More than anything else, you should check out whether they have a huge wagon of faithful customers. If they do, then you do not need to check the other aspects. It is very much obvious that with a faithful long list of customers, the brand is an expert, customer friendly, quality and style is also up to the mark. And when we are talking about these aspects, it is inevitable but not to take the name of MensITALY. Their online shopping portal www.mensitaly.com is catering to customers all over the world, and their prices are unbelievably affordable. This website is worth a visit for all men who desire to be fashionable enough to attract attention.
The urban professional who is just starting out their career, and are also very aware fashion wise desire to go for something which matches their frequencies. But as they are just starting out the budget seems to be a tough prick. Therefore to avoid all this trouble what you can do is build your wardrobe around one or more well made mens suits . You have to buy these suits which are well worth in material, craftsmanship, and appearance. Then accordingly you can build your entire workplace around these suits, by mixing and matching whenever you can, and accessorising accordingly. This way you can breathe a new personality to the suit every time you coordinate it differently, and no one would be able to guess that it is actually the same suit that you wore it yesterday!
Fashion is not something which exists in clothes only, but also in your surroundings like the sky, streets, the ideas, the way you live and what is happening around, it just depends on where you find your inspiration, how you make your building block of the work place and become the high flying, smooth talking well performing fashion palate!