Home > Articles > Fashion Tips For Mens Tailored Suits
Fashion Tips For Mens Tailored Suits
Every man desires to have at least one elegant, stylish suit whether it is for work, business or a special occasion. Man suits are one of the most important formal wear in any man's wardrobe. Selection of appropriate man suits is very important. Suits can be tailored one . Always remember a mens tailored suits should always be well fitted. Suit size plays an important role in selection of a great suit. A good fitted suit enhances the personality of a man. A man always looks best in his suit.
Tips for custom men clothing
Analyze the occasion:
The first thing to remember before wearing a suit is that for what occasion are you wearing? Analyze that how formal an event is, is it a party or a special occasion or a general business meeting or a party and dress according to that. Wear a suit that perfectly matches the situation.
Select correct fabric:
Fabric plays a very important role for your suit. Quality fabric should be chosen for comfort and style. Wool is the best option as it gives a rich look and most importantly it is a wrinkle- free fabric.
Color combination:
Color co-ordination is very important before you buy men suits. Skin complexion should always be kept in mind. Choose color that suits your skin color. Go for darker shades if you have a fairer complexion. If you have dark complexion then you can go for light color suits such as white, off-white or ivory. Wearing a right color suit will brighten the man's overall look. The second aspect to remember is weather or climate. If you are wearing you're suit for summer or tropical parties then you can for lighter shades. If it is a cool party you can opt for dark colors like black or blue.
Perfect Fitted Pants
The best choices of pants are the flat front pants. It will always make you look slim and stay in style. The pants should be above your heels. It makes no sense in showing off your socks; it will only end up making you look like a 'Charlie Chaplin '. You should feel comfortable at your waist with or without belt. The pant should not be too tight or loose, it should be properly fitted.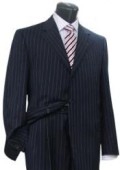 Look trendy and charming
It is always good to fly with the trend. Abreast yourself with latest trends and fashion to look trendy and charming. Look for the latest trend in the market and upgrade your suit according to that. Go for men's slim fitted suits which are new in the block of suits.


Wear perfect accessories with tailor mad suits.

Preferably go for dark colored shoes for any type and color of suit.

Choose the color and pattern of the tie which matches your suit.

Socks should match your suit as well as shoes.

Belt color should match the shoe color. Strictly avoid large and flashy belts.

You can also wear jewelry that suits your suit, a silver or gold bracelet, pendant, ring or chain that depends on the occasion.

Designer watches enhance a man's status and style quotient. You can wear any branded watch or formal watch.

Cuff links flourishes your personality. Cuff links are of various styles. It is only used for the cuffs that have button holes on both the sides but no buttons.
These are various fashion tips which one can follow to enhance the custom men clothing and personality.