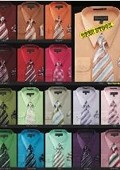 Looking stylish and perfect starts with the knowing when and how to tuck in your shirt. This article will explain you in detail about tucking in your shirt. Read through and be the expert. Look stylish and confident. Become a style icon.
Why is it Important to tuck your shirt?
Weather to tuck in the shirt or not! Has always been a point of controversies. Visually there is quite a striking difference between tucking in the shirt and wearing it untucked. With a tasteful tuck you can appear really classy without changing your wardrobe. On the other hand a loose and puffy tuck can make you look fat! Tucking in your shirt properly is important when you are thinking about looks.
When should you tuck-in?
Most of the men always debate about this point. How to answer this question? Well here are some guidelines:
There are shirts having a flat bottom. Those are meant to be worn untucked. But in case if the shirt has a tail which is visible enough, then that shirt must be tucked in.
Actually even if you wear Tailed shirt untucked, No problem! If you don't tuck your shirt even in a suit, then these days, people will think you are trying to show off as if you are a style icon.
How to tuck your shirt correctly?
Put your shirt on, button it. Take the shirt tails pull them down, this will tighten the fabric on your chest and give you a professional look. Now pull your pants up. Push the shirt buttons inside your pants. See to it that the bottom of your shirt rests inside your pants. Zip your pants and fasten the button. All this set must be accompanied with a belt. Now pull your shirt a little up by raising your hand. Don't pull too much. Aim to take off only up to an inch. Line up all your shirt buttons with the fly of your pants.
When to tuck your shirt?
Particularly the buttons up shirts are meant to be tucked in. Though there are no hard and fast rules as such. "Dress" shirt should be tucked in always. Particularly the times when you want to look tidy and all neat it's better to tuck up the shirt.
As a thumb rule, one can think polo and tees are always left open without tucking. As we have seen most of the Button shirts are meant to be tucked in, in the similar way tee shirts must be kept open.
For formal occasions and professional meetings tuck in your shirts. Occasions like Funerals, Graduations, Weddings and Religious ceremonies are some situations where you need to be dressed properly.
Also at the time of professional meetings, job interviews and serious work events you should prefer to be dressed professionally.
Particularly casual occasions are the one where you get all the authority to be untucked!!!!