Home > Articles > Mens alligator shoes: Mixing Style with Trend
Mens alligator shoes: Mixing Style with Trend
: If you are looking for a fashionable shoe that will help you to gain attraction among crowds then mens alligator shoes is the best option available near hand.
As understood from the name itself, the shoes that are made out of alligator's skin are commonly known as mens alligator shoes. The hides of alligator are quite durable and are able to provide the users with a longer working time. It does not tear easily and can be used for a longer period of time. It is equal to the hides taken from cows or any other animals for human purposes and the natural durability of the skin of alligator make it highly popular among the masses. These kinds of shoes are quite expensive and it is quite difficult for the normal people to buy such shoes. They are in demand and the rarity of this type of shoe makes it even more popular. The reason behind it is that alligator?s hide cannot be obtained quite easily and its limited availability makes it costly.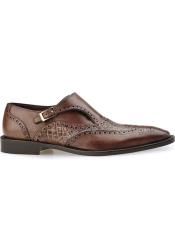 Shoes can also be made from cow hide or any other materials. With advancement in technical aspect, people can buy shoes that are not made of animal skin and those are also popular among the masses. But alligator shoes reflect style and personality. This makes it so much in demand among men. Nowadays, it was stated by both Wildlife service and United States Fish that alligator is becoming an endangered species and it is quite dangerous to hunt these reptiles down for such usages. To avoid such circumstances now after several years of harvesting period limited reptiles are released which are then hunt down during hunting period.
Alligators are quite similar to the crocodiles and they are present in this world for millions of years now. They are also known as the closest living creature to what we used to know as dinosaurs. The most famous part of the whole animal is the strong teeth and the strong hide it posses. It is not only tough but also at the same time quite demanding among the other hides of animals. Their teeth are also equally fascinating and are also centre of attraction among others. This makes it believable that they were close to dinosaurs. The shoes that are made from their hides cannot be destroyed easily and these are used for not only making shoes but also other products as well like wallets, belts, purse, and the list is endless.
There are various companies all around the globe who can produce mens alligator shoes and these manufacturers claim to provide the customers with the best product. As these shoes are quite expensive and need a lot of money thus it is always advisable to choose those companies who are well known in this regard. You can definitely ask for help from your friends or family members who are well known in this field and their suggestions can help you in more than one way. You can also log into some official websites of the reputed companies and look at the reviews that are posted in their walls by various customers. This will lead you to a better end for sure.