Home > Articles >Walk In Style With Mens Big And Tall Blazers
Walk In Style With Mens Big And Tall Blazers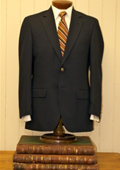 A blazer can be worn with both formal and casual wear like trousers or jeans and t-shirts or shirts alike. Blazers add a charm and uniqueness to otherwise common and often boring men's outfit. Blazers come in various designs, fabrics and patterns that are meant to suit different occasions. One such fabric is that of leather. It's more in informal category and has its own rustic and boyish charm that makes it stand apart and at top from other fabrics. A mens leather blazer is another most common piece of clothing to be found in a man's closet. A blazer fits every occasion, be it formal business meeting or an evening event or a casual date very well. Blazer is a well fitted men's jacket and is little informal in nature.
Blazers can be broadly divided as single breasted and double breasted blazers, just like any other jacket or coat. A single breasted blazer is the popular and universally accepted style of the blazer. It is also a safer bet to buy a single breasted as they suit all the occasions unlike double breasted blazers that are more conservative and better suited for work environment only. A single breasted blazer is buttoned at centre with the two flaps whereas a double breasted blazer has the front flaps that overlap each other and has two rows of button. Single breasted blazers can be further distinguished based on the buttons as one-button, two-button, three-button and four-button blazer.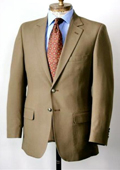 One button blazers are considered very fashionable and stylish, thus are more suited for social functions. Two-button blazers are more formal in nature as compared to one-button blazers are well suited for work environment too. They are the most common type of blazers as one can never go wrong with a two-buttoned blazer. They are universally accepted as looks very fashionable yet formal. Three-button blazers are another universally flattering blazer like two-button blazers but are less conservative and formal in nature.
Four-button blazers are also more about style and fashion. The most common and popular colours of leather blazer are tan black, brown, white and tan brown. Mens big and tall blazers are super stylish clothing item and at the same time keep you cosy. So, grab this cosy piece of clothing and get ready to groove even in cold nights.