Home > Articles > Boost Your Style Quotient With An Unconventional Dark Green Blazer
Boost Your Style Quotient With An Unconventional Dark Green Blazer
Sometimes, you can look different and create a fashion miracle. However, different doesn't always mean odd. You can wear a blazer of a different color that will stand apart from the throng of classic conventional black and blue blazers. If you want to add a splash of unique to your wardrobe, but at the same time maintain your style quotient and look like you mean business, then you can do so by sporting a dark green blazer that will bedazzle your onlookers with its subtle charm.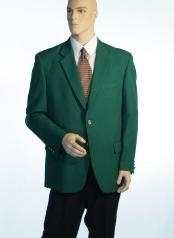 Can green be worn with everything?
You might be wondering that even if you do get around to buying a green blazer for yourself, then how many times you will be able to wear it, and whether it will suit the rest of the clothes that you do have. There is a vast array of things that you can pair your blazer with, and all of those are men's basics, so it's not like if you buy one green blazer , you will have to buy other things that will complement it. A green blazer can be worn with dark and light clothes alike.
A corduroy blazer dark green can look great with pale beige pants, dark grey pants and any color shirt you want to wear underneath. As long as they aren't bright, pop colors, you can easily pull off a green blazer with anything you want. A green blazer is elegant, sophisticated and exudes classiness, that cannot be ruined by bright, and loud colors.
As for those who are not afraid of taking risks, color blocking can add a fun twist to an otherwise boring color.
Variation in dark green blazers
A dark green blazer is utilitarian and at the same time, it is among the most subtle, powerful impact you can make with your clothes. Whether you want a full, broad lapel in your blazer or a slim lapel, what shade of dark green you want, whether it is shade that almost looks black, or one where the green shines through, we offer a range of blazers, all according to any specification that you may have.
You can stand out in any crowd, and sport your dark green blazer anywhere, and make sure that you are the centre of attention, with your impeccable fashion choice.