Home > Articles > Alligator Skin Boots for Men Are the Best Ways to Make a Style Statement
Alligator Skin Boots for Men Are the Best Ways to Make a Style Statement
Have you seen alligators closely? They are tough and resilient as much as the dinosaurs. Seeing them it is hard to believe that they can be responsible for one of the greatest fashion statements. Yes you read it right alligators; rather, it is their hide that is used for making some of the most exclusive collection of footwear for men. Some of the most well known brands in the world sell alligator skin boots for men. The skin of these reptiles are classified as exotic leather and anything that is exotic is stylish and a collector's item. Once upon a time alligators were termed as endangered species but nowadays they are easily available.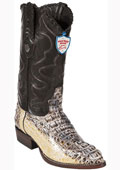 Alligator skin boots for men are tanned and dyed and then used to manufacture boots and other shoes. They are often utilized to create luxury items and then sent overseas. Thus, economically these are quite profitable. In fact, if you are looking forward to buy a pair of alligator shoes then look out for the price as well. There are various well known shoe companies that deal with alligator shoes. Men were always thought to be less fashion conscious than women. But that is a wrong notion. Guys are as much aware of what's in and what's not as their counterparts. Hence, these shoes are perfect choices for those fashion conscious men who are looking forward to make a style statement.
The alligator skin boots for men are also available in various sizes. You can also pick from their collection of ankle length boots. However after the recession the prices of such boots have considerably fallen. In addition to this you can find such boots on online stores. These offer you cheaper rates and a better collection that walk in stores. Brands like Mezlan and Lucchese, offer quite convenient prices to the buyers.
Wondering why these boots are so popular. The foremost reason is there durability. This alone has made these boots expensive. And as stated earlier these are considered exotic hides and hence, the cost rises. Also these are difficult to process and require high costing. Hence, at the end of the day when a pair of is manufactured, the cost of the final product goes up. Men who love to wear these boots are completely ga-ga over such shoes. They would spend a fortune to get a pair of such shoes. But the USP of these alligator shoes are that even if you spend a lot these will last a lifetime. Hence, these shoes are worth the investment.
While you are shopping online for the alligator skin boots for men make sure that you do not end up being a fake pair. There are several stores that can hoodwink you regarding this. You must know what product you are buying and verify the prices with other online stores as well. This way you will also be able to get the best deals for the shoes.