Home > Articles >The Versatility of Two-Buttoned Suits
The Versatility of Two-Buttoned Suits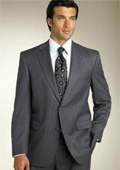 Even though suits are considered as essential attire in every man's wardrobe, not all the people would be fond of them. And the shopping for suits would become a hideous task if you are not fond of it particularly. But what should be noted is that it is important to have a suit especially two buttoned suit which would compliment your professional look completely. However shopping for a suit is no easy job as you have to consider several factors beginning with how many buttons that your blazer should have. Furthermore your lifestyle, your budget and your body type would play a significant role in determining the type of suit that would look good on you. If you have reached a decision regarding the number of buttons your suits would have, you are half way through the suit buying process.
If you are not typically a suit lover, the best thing to do would be to go for a two buttoned suit as it is the universal standard. This is because its frame lengthening properties go along with virtually all builds and it has an enduring elegant appeal. You don't have to worry if you are having a short torso. Here also two buttoned suits are the best way to go.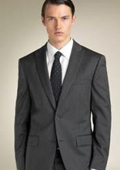 Trend Factor:
The trend factor is also important to consider before purchasing the suit. You don't want to buy something according to the current trend and would lose its charisma very soon. For getting a timeless piece, go for a two buttoned suit without any unnecessary extras which is impeccably tailored. However it would be better to replace it every five years so that the attire would look current. If you are first time buyer of suit, better pick a two buttoned on that would stay for ages.
Tips to Pull off a 2 buttoned Suit:
While wearing the suit, you need to fasten the top button if you wish to wear your jacket closed. In some modernized version of the two buttoned suits, the buttons are positioned higher on the jacket so that there would be compromise between two and three button suits. These are contemporary models which need to be closely examined before buying. It is always safe to buy a two buttoned suit since there are no chances that you would go wrong with that. They can be worn for work as well as for any formal occasions. You can either buy the suit or go for a custom made one that would perfectly suit you.