Home > Articles > Tuxedo Vests for Various Formal Occasions
Tuxedo Vests for Various Formal Occasions
Getting the perfect attire for a formal occasion can be a daunting task if you are not aware of all the types of apparels that are available in the market. Formal attires are available in multiple colors, designs, styles, cuts and materials. Before purchasing any apparel you must go through all the collections so that you are able to get the best apparel for yourself.
Presently, tuxedo vests are in much demand and can be worn at different formal occasions. Vests are sleeves apparels that are worn over formal shirts. It can make one look stylish and elegant. Perhaps this is the main reason why most of the men opt for this tuxedo vest. This attire is widely appreciated by all the men because it reflects one's personality and status. One can wear tuxedo vest at various formal events including wedding.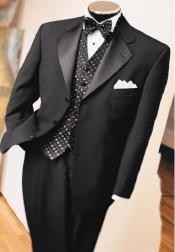 Usually, formal tuxedo vest is little costly hence you must be choosy while selecting them. The texture of your apparel needs consideration when you are purchasing a vest. Color is also an important factor that needs attention when you are selecting a nice looking vest for a formal event. Generally, dark tuxedo vest is designed to be worn at corporate occasion whereas bright colored vests are meant to be worn at social gatherings such as wedding. Thus, you must select tuxedo vests in accordance with the theme of the event that you are about to attend.
Tuxedo vest comes in two different types: double breasted and single breasted types. If you are about attend any 'white-tie' invitation or wedding party then you can easily opt for double breasted tux vest. These are perfect attire for thin men as they look slim on wearing this type of vests. Single breasted vests are ideal for fat and big men.
Tuxedo Vests are available in different shades of colors such as blue, green, brown, black, white, red and much more. Some vests come in single color and some with designs. No matter which design and color you choose each one is highly sophisticated. It is essential that you get accurate sized vest. It must have a good fitting on you and it should not be too saggy or too lose. You can wear this vest over trouser or jean. It will look great on both. Check out the different patterns and colors available before you make a final selection. You can also wear a tie along with tuxedo vest as it brings a smart look to the wearer.
There are different online stores that offer wide ranges of tuxedo vests for their clients. You just need to be careful while selecting a store. Make sure that the store offer safe payment system and you don't have the possibility to lose your money. It is best to read the terms and conditions, return policy, shipping and other policies of the store before you make your purchase.