Home > Articles > Royal Blue Tuxedo - The Right Choice For Your Wedding
Royal Blue Tuxedo - The Right Choice For Your Wedding
A tuxedo is a formal evening suit distinguished primarily by satin on the jacket's lapels and buttons and a similar stripe along the out seam of the trousers. The suit is typically black or midnight blue and they are usually worn with a formal shirt, shoes and other accessories. Most men rent these fancy suits for special occasions since they are infrequently worn. Tuxedo in the context of menswear originated in the US around 1888. The earliest tuxedo jackets were of the same black material as the dress coat with one, two or no buttons and a shawl collar faced in satin or ribbed silk. As time passed by royal blue tuxedos started occupying an important place in the fashion world. The royal blue tuxedos give a completely rich, classy and sophisticated look like no other color. Adding to that, a subtle combination of royal combination with black creates quite a magic.
Men who love to flaunt attractive and dashing looks will surely opt for bold colors. The bright colors naturally give a dynamic look where the royal blue being the most prominent one. The royal blue tuxedos for men goes perfect for wedding, parties, religious events, procession and all kinds of formal and casual occasions. The royal blue tux collection include 1 button tuxedo, 2 button tuxedo, 3 button tuxedo, banded tuxedo, single breasted and double breasted tuxedo and lot more. When it comes to fabric, the royal blue tuxedos are made from the variety of quality fabrics where wool, satin, silk, velvet, polyester and rayon being the most predominant one. Generally satin are used for the lapels in giving smooth look that compliments the color.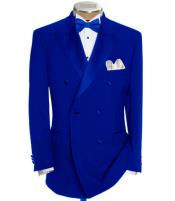 While buying royal blue tuxedos opt for the one that is made of wool than polyester or any other fabric because the fabrics jells with the color in preventing it to be too glossy which is highly preferred for bold colors. On the other hand wool made tuxedos is durable and affordable. The royal blue tuxedos are the latest craze among modern men. It is more vibrant when compared to other shades of blue. It highlights your look and brings the best in you. No matter where you stay, what type of climate you are in, the royal blue tux has no bounds to flaunt your style. During the festive season the royal blue tux gives a grand look to the wearer. In fact, for men, blue is an elegant color to play with at the time of celebration. Royal blue got its name from the ancient era where heavy usages of this color in royal families were very popular.
This classy attire can be used at wedding receptions and it will help the wearer to stand out from the crowd. During New Year times, Christmas parties royal blue tuxedos are the ultimate choice for you. Velvet royal blue tuxedos are highly preferred for attending royal parties. The stylish look this attire gives is what everyone would visualize for. Fashion trends with royal blue tuxedos will never go out of style. Elegant, stylish and luxurious, the wearer should make sure to get it from quality stores, in order to grab that stylish look.