Home > Articles > Prom Tuxedo
Prom Tuxedo
Everyone wants to look best during their prom night, wouldn't you? If you want to impress your friends on that big day, then you have come to the right place to get them, because prom is an important event in every person's life. MensItaly.com has a wonderful collection of these attires, which will definitely amaze your girl if you are asking her out during your prom night. They are a must for every guy who is going for his first prom. MensItaly.com attires are made from the finest fabric with sophisticated stitching and Italian designing, which will fit you comfortably. Buying a prom tuxedo from MensItaly.com is a best investment, as it will stay as good as new for years to come. Every importance and care is taken to bring out these most excellent ones to woo the girl you want. Any kind of prom shirts such as wing collar, turndown collar or mandarin collar; goes well with our outfit. Traditional ones are generally worn with a bow tie and with a vest or cummerbund, which is a pleated sash worn around the waist. It is a part of Men's clothing which comes in black tie and it is a semi-formal evening dress. But men's tuxedos are always considered to be the best formal wear for prom. Most of them come with matching trousers and in various styles such as double and single breasted with peaked lapels. It gives you a unique fashionable look for man's personality.Mensitaly.com has superb collection of these suits with 1 to 3 buttons made from best worsted wool, available in outstanding colors like black, off white, white and ivory. We also have 38" long length fashionable ones which are very trendy which is also suitable for your prom night.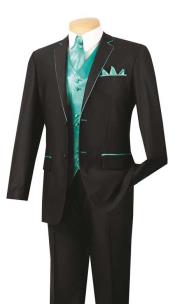 Elements Of Your Tuxedo
Trousers: The trouser pants of the Suits that have a tapered waist, slim and tapered legs look the best. The pants should be of mid-boot length. Flat-front design looks more modern than the traditional pleated-front style and it helps maintain a well fitted look. The pants should look good and well- fitting to maintain a good appearance. In a traditional tuxedo, the pants and the jackets are of black color.

Jackets: The jackets should have a point-to-point shoulder measurement and should fit well. The length of the jacket should be around below your waistline as it should cover your hips completely. Smaller and softer shoulder pads add to a decent fit. The sleeves should be long enough to cover your wrist but the cuffs of the shirt underneath it should be visible. The jacket is of the same fabric and color as that of the pants.

Shirts: The dress shirt of a tuxedo is usually of white color. The fit of the shirt should be similar to that of the jacket wherein it should wrap around the torso snugly. Wear a shirt of your exact shirt size and make sure that it isn't too tight or too lose. The length of the shirt and the sleeves should be perfect as well. Never go for a shirt if you feel uncomfortable in moving around while wearing it.

Waist Coats: The waistcoat is of black color in a standard 3 piece tuxedo. The fit of the waistcoat or the vest should never be underestimated as it matters a lot. The vest should be of a snug fit and should never feel loose or tight. It should elegantly wrap your shirt and offer you the best support and comfort.

Bow Tie: The bow tie is the major accessory of a tuxedo as it tops it with elegance and grace. The bow tie is of a standard black color and it should never be of a pre-tied or a clip on variety. The bow tie brings about extra sophistication to the tuxedo.