Home > Articles > Stylish Orange Tuxedos for Various Occasions
Stylish Orange Tuxedos for Various Occasions
A special occasion like a wedding party always demands that a man should wear a nicely tailored tuxedo. They are available in different styles such as traditional style, formal, casual or modern style. No matter what style you opt for make sure that it suits the occasion. Moreover, it must have a perfect fit on the wearer. Besides, tuxedos are available in different shades of colors. Amongst all, Orange Tuxedos are the most after apparel that majority of the young guys look for. This attire can make look graceful, classy and smart. Orange colored tuxedo suits every skin tone but it will look great on man with fair skin.
These are available in different materials such as cashmere, polyester, linen and much more. You have to choose the one that best suits your personality and style. It is advisable that you select the material content depending on the time and type of the occasions. For example, if you are about to attend any wedding party then you will definitely look for something that made out of glossy texture.
These are available in different styles and types and can be worn at different occasions. Single breasted style is meant for semi-formal and casual events. On the contrary, double breasted coats are specially designed for formal and traditional occasions. It is best to wear them at the night or event occasions. Choose the type of the tuxes depending on the physique of the wearer. Double breasted blazer with pads on the shoulder will look great on tall and thin man whereas, single breasted blazer will look stunning on thin and short man. They must opt for the ones with less buttons. Make sure that the trouser and the suit matches accurately. Another style that is in great demand is the tailcoat. If you plan to wear a coat with tails then it is best to opt for pant having two stripes or else wear single stripe trouser wither other jackets.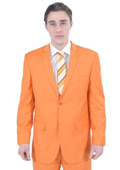 The jacket or blazer, whatever you may say is the fundamental part of the tuxedo. To bring a traditional look, wear this attire with a notch or a peak lapel. With it you can wear a white shirt and matching trouser with stripes at the side. A neck tie will look great on this combination. For a modern look it is best to wear it with four buttons or six along with a bold patterned vest. Now, you won't have much problem in selecting the right apparel for a specific occasion.
There are several online stores that offer huge ranges of this attire with variations in styles, designs, cuts and materials. Take your pick depending on your physique and the type of occasion you are about to attend. It is advisable to check out different collections available with a particular store before you purchase any piece. That you can do by browsing the online site of the store.