Home > Articles > Opt for a Custom Made Navy Blue Tux to Make a Style Statement
Opt for a Custom Made Navy Blue Tux to Make a Style Statement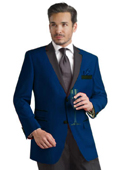 Wearing tuxedo for formal or informal occasion has become a recent trend. It is exciting to dress yourself into a nice looking tailored made navy blue tux and visit that formal party that you have been waiting for. Before buying tuxedos you must know that this apparel is not meant for every occasion. Type of the occasion, its timings and theme are the main factors that need attention. These factors will help you to decide whether you will opt for tuxedo or not.
Tuxedo suits are available in different types, materials and colors. Presently, navy blue is most sought after color as far as this specific attire is concerned. You can dress yourself in navy blue tux in different styles. A white shirt with navy blue trouser and blazer can be a good combination. You can take a blue tie it will add a touch of elegance to your style. If you are trendy then you can opt for a blue waist coat over white shirt and blue trouser. To make it more stylish you can add a bow tie. Generally, blazers are of two types: single breasted and double breasted. Both types are highly fashionable. It can make one look smart and classy.
Those who are more concerned about their style and dress can wear a nice looking tuxedo. If you are confused about color then don't think much and go for navy blue shades. This color is versatile and looks good on every skin tone. This is the best attire for making a style statement. At the time of purchasing suit you must be careful about its cutting and fitting. A well cut and perfect fitting outfit can make you look elegant. So, you must purchase a well fitting and perfect cut suit if you want to be the focus of attention in the party.
Now tuxedos are to be worn at specific occasions. Let's give you some idea where you can wear a nice looking navy blue tuxedo. A wedding party or other religious gatherings are the best events, where you can wear your custom made nice looking attire. Groom or the groomsmen can wear tux to appear trendy and cool. High school proms or formal ball party or other formal occasions are the events where you can wear this outfit. If you are going out for a dinner with someone in a five star restaurant then opting for this apparel will be a great idea. There are many events where you can make a fashion statement with your tux.
Now, getting fine quality and perfect fit is not difficult at all. There are some online stores which supply wide range of navy blue tux. You can check out their collections of clothes by browsing their user friendly online site. There you will get tuxedo in different shades of blue color. Most of the stores can provide you custom made clothing. So, what are you waiting for? If you have a clear about what you want then visit their online site and place your order.