Home > Articles > Tips on How to Match Mens Grey Suits with Other Garments and Accessories
Tips on How to Match Mens Grey Suits with Other Garments and Accessories
Presently, the mens grey suits are in much demand. It is considered to be the most versatile and everlasting suit for everyman. It is the perfect attire for office. One can wear them for a regular purpose. Besides, this it can also be worn at different informal occasions such as funeral, religious gathering, wedding ceremony and much more. This attire can make one appear smart and trendy. Moreover, it can bring an authoritative look to the wearer.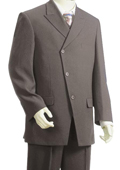 Suits are available in different shades of grey. It is advisable to opt for a medium grey color as this lighter shade is ideal for bring out the best in you. This attire is best for summer times, as light color doesn't absorb heat. This grey jacket can keep one comfortable and presentable even in extreme hot and humid temperature. Since, grey is a versatile color it can fit every skin tone. Thus, any man in grey attire will look great.
Moreover, mens grey suits are available in different designs, shades and styles. This apparel comes in both single breasted style and double breasted style. Both style is highly fashionable and can make one appear elegant and handsome. Suits are available in two, three or four buttons where you can pick the one that best fits your personality.
Man in suit looks smart and trendy. It is essential that one able to pair up his grey suit perfectly with other clothes and accessories. Since the grey is a versatile color pairing it up with other clothes is not very tough. There are some men who often get confused about what to wear with mens grey suits. So here are some tips given below:


One can wear a nice looking white and black gingham shirt along with a stylish dark red tie and black shoes. This combination can bring a pleasant look to the wearer. A man in this combination can appear classy and elegant.

Black or navy shirt also looks great on anyone. Losing the tie can also add a touch of elegance to your style.

If you have striped grey jacket then you can easily look for striped blue shirt along with a navy rep tie. No matter what you wear just keep in mind the tie is darker than the shirt. This combination can make you look different.

For any causal event, one can wear a black shirt under a nice looking grey blazer. The top button of the shirt can be kept open. One can wear chocolate brown brogues or loafers.
So, these are the ways how you can pair up your shirt with other clothes and accessories. Now, you have to purchase the attire carefully. Check out the color, material content, style and design carefully, while purchasing outfit. It is advisable that one must be careful about the size and fitting of mens grey suits.