Home > Articles > Simple Tips to buy Mens Casual Blazer Jackets
Simple Tips to buy Mens Casual Blazer Jackets
Looking for a blazer that would suit your personal style? Well then you can opt from a wide collection of mens casual blazer jackets that are easily available in the markets. Blazers are essentially jackets and coats and they differ from sportswear as well. Hence while making a purchase it is imperative that you keep certain tips in mind. And who says that casual dressing means dressing down? On the contrary you might have to work a bit hard to bring in that perfect casual look. Using a blazer to get the effect is stylish and easy.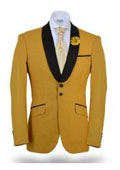 An incredible collection of casual blazers are available for men. For informal occasions where you are opting for jeans and a simple T-Shirt, team these up with a blazer and watch the change in your style quotient. You can opt for striper, corduroy, linen or printed blazers. Mens Casual Blazer Jackets if properly purchased can be used during summers as well. For instance, outfits made out of linen are perfect for summer. These are available from INC International Concepts. Collections from this brand can be casual wears or you can also use these for business purposes. Tommy Hilfiger, Kenneth Cole, Calvin Klein, Armani and various other brands have a wide and impressive collection of Mens casual blazers.
Whilst shopping for mens casual jackets look out for the casual fabric. Casual is a more comfortable style. Make sure that the outfit you are buying makes you easy. At the same time it is imperative that the jacket fits you well. Hence, if you are buying the jackets online make sure to verify about the fittings. Even an ordinary looking jacket attracts attention if it has good cut and superb fit. You should also get used to the feel of an added layer on your shoulders. A man sporting a tailored fit with matching trousers will grab more attention in making him stand extra ordinary among the crowd. In addition a tailored fit provides your figure a better look.
Casual blazers are available in various colors. Right from khaki ones, to black, shades of blue and even printed ones. Some consider these as semi-casual. So to provide a complete casual feel you can match these up with casual shirts, t-shirts and chinos. Whilst buying the casual blazers, men should also be careful about the texture. Ensure that the raw materials used for making it will suit you. In fact a navy blue blazer is a must in any man's wardrobe. You can never go wrong with this piece as it can be teamed with any kind of apparels.
While online shopping for these jackets compare the prices before you finalize. Go through the policies and find out in details about the particular item. Also choose the perfect size for yourself.