Home > Articles > Mens Brown Dress Boots: For Both Formal and Casual Wear
Mens Brown Dress Boots: For Both Formal and Casual Wear
Boots are not only for men but nowadays, women also love trying out new and innovatively styled boots. There are laces boots, brown cowboy boots, motorcycle boots and more which are unisexual in nature and can provide the wearer with a new style all together. Just go through the different brochures that are available in our website to know more about these brown boots and their prices. Men's brown boots can be made from different types of materials, ranging from leather to rubber. These are available in various forms such as military boots, ankle boots, Wellington boots and desert boots, where each has their specific style and design.
Brown color Chelsea boots are preferred by men who use close fit, lace less and ankle high type. The other common boots used by men is the Chukka Boot with laces, which is generally made of suede and rubber soles. Well structured motorcycle boots come in different shades but the most preferred is the brown color as it goes with all kinds of outfits. These motorcycle boots are lightweight and provide good grip for shifting and braking and the lace cover prevents tangling of laces. You should take good care of these boots by storing them in dry and well ventilated places. You should apply material specific creams to enhance the shine and always try to keep them wrapped up, as these will increase the longevity of the shoes. Rubber soles generally last longer than the leather soles. Leather soles usually wear away quickly with regular use, but rubber soles can withstand wet and humid weather conditions. Rubber soles are more flexible than the leather soles but leather soles are comfortable for your feet.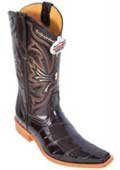 With the help of our website, you can purchase these boots in any size that you want. You can check the styles and designs of these boots from these websites. You can even get to know about the prices of these boots from our website. You can also get other information from these websites like the different types of brands and so on. At MensItaly.com, we offer a wide range of men's boots. Our boots come in a range of colors and styles including tan, black, navy, brown and burgundy. Our men's boots are made with high quality materials including ostrich, calf, alligator and snake skin. We carry lace up, slip on and zipper styles to fit every style and personal preference.
You will find the quality of our men's boots to be comparable to top designers. We use the same materials and craftsmanship in our men's boots as you will find in the most popular designer boots. You get the same excellent quality without the high price tag that comes with the designer label. We guarantee you will be satisfied with the exceptional quality of our merchandise. We have created our website to be user friendly, allowing you to browse our inventory of men's boots and other merchandise. We have cultivated business relationships with leading manufacturers in the clothing industry. These connections allow us to procure high quality men's boots at exceptional prices and pass these savings to our customers. You can shop with confidence, knowing your personal information is always protected with 100% encryption.