Home > Articles > Great Ideas to Select Proper Tuxedos
Great Ideas to Select Proper Tuxedos
In the earlier times, Tuxedos were the realms of the aristocrats and the socially elevated people. Now, they have become a major part of a man's wardrobe which he dons for special occasions and celebrations. They are your best choice for lots of formal and dressy occasions as they ensure that you look dapper and well- dressed. They are perfect for social gatherings like fancy parties and ceremonies. They also go well with business gatherings, weddings, fancy dinners, proms and so on. The best part about them is that they are pretty versatile and can be used to dress up for day events and evening events. They should definitely be a part of every man's wardrobe. The most important aspect is to nail the fit. There is a very detailed size chart on this website that can help you determine the exact size for your shirt, trouser and jacket. There are guidelines present in the website whichtell you how to take your own measurements, compare them with the size chart and conclude your exact size. Nailing the size is as easy as that! So if you don't own a tuxedo already or if you are looking forward to replace your existing one with a better one, then browse our website, pick out your favorite ones and get shopping!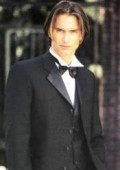 Style Tips To Wear The Tuxedo Right
You can accessorize your tuxedo with a Black Bow tie which is the classiest of the lot. Wear a self tied bow tie and look like a fashion- forward charmer. Bowties can be worn in various styles like the butterfly, semi- butterfly, pointed or straight end.

Wear a pair of classic black oxford shoes as they look incredible with tuxedos and they complement its elegance, class and grace perfectly well. You can wear any kinds of Oxfords technically like the plain type, wingtips, cap toes and so on.

A pocket square is technically optional, but wearing a plain white pocket square would add to the majesty of the tuxedo. They are timeless pieces of accessories and wearing a plain one can make you look ten times classier! There are numerous folds that you can do on pocket squares like a one point square fold or a flat square fold.

Accessories like wrist watches, finger rings and belts can also be sported which complete the outfit and give it a finished look.

Short and broad men should stick to single-breasted jacket as it adds height and makes them look slimmer.

Muscular and vertically lifted men should prefer clean, smooth, pleated shirts or double-breasted jackets to avoid looking bulkier.

Men with heavy waist should go for vest rather than cummerbunds as that will draw the attention away from their waistline and up towards their faces.