Home > Articles > Men's Italian Suits in a Form of Expressing Fashionable Dexterity
Men's Italian Suits in a Form of Expressing Fashionable Dexterity
These are not mens suits designed for men belonging to the élite class. Anyone can pull the style. There are some occasions in a man's life when he has to dress up stylishly showing off his masculinity. A suit has a status symbol associated with it. The whole society at large appreciates this attire where especially the Italian ones represent some of the finest quality work in tailoring. These apparels are a status symbol coming to represent the wearer's esteem.
Mostly Italian suits are magic. Irrespective of whether it is handmade or pre-made, it is always a pleasure to wear one of them. It is believed by most people to have some magic formula underneath it.
The huge success for these outfits lies in the fact, that while making a suit they are designed to cater all kinds of physiques. The design of the garment is in such a bold way that it hides the flaws and makes the wearer seem comfortable in the attire. There are many features of an Italian suit that is different from the normal ones. The impressive feature that needs to be highlighted is the effort the tailors put to hide the flaws and highlight attributes that are impressive without sacrificing the comfort feature.
Everybody does not have the privilege to have outfits customized, but the wide arrays of suits which are customized are simply mind blowing. They are sure to blow a man off his feet! A customized fit has a lot of features. Some features will make you seem simply amazing and superb. There is going to be a shortage in the requirement of adjectives needed to describe a man wearing a customized fit. Italian customized suits will be simply superb! Customizations can be made to increase the comfort level too and increase several other features. A degree of customizations can simply overturn this attire into something of an extraordinary design.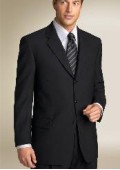 Some of the special features of an Italian suit are for instance extra pockets, specific fabrics and linings. Accommodating a certain design, style and color, is always possible. While customizing the whole structure of the suit is changed. The parameters such as the best fabrics, threads and interlinking are upgraded. These add-ons also guarantee high quality clothing. Many tailors work on the customization process. There is an assembly line in fact. The suit is customized at various stages.
These suits are available for a wide range of budgets and it is not too far for a budget conscious people. It is within reach of them considering the various types available in the market. Man with any budget will be confused at the difference available at his convenience. There are handmade models and even the ready-made type. Online shopping is also an option many people consider. Purchasing the best Italian men's suits at the convenience of your couch is not an option many people think of missing out on. Actually there is a wide array of choices on the net making you feel tempted to go the extra mile!