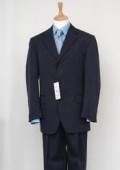 I know the words 'nice and 'cheap' doesn't go along in the suit buying world.
Every man must have a best suit in his wardrobe. But, for different events you should have different attire, and buying multiple suits is quite an expensive task. Everyone can not afford it though they want. I am here to surprise you by some simple tips about how can you get versatile and sharp look, if you buy cheap tuxedos smart suit and match it with right accessories. Here is all you should know about how to suit up!
Choose correct fabric and brand:
Wool is the trendiest choice. Stick with natural fabrics. Never go for polyester which is always cheaper in prise as well as looks.  Wool fits better and is much more comfortable than poly fabric. Poly fabric will also make you feel uncomfortable in due time. 
Also study the brand name. Every brand is somewhat different when it comes to fitting. Actual trial will help instead of guess work. Don't forget your tailor. He knows your actual size. Take your suit to him and get it corrected wherever necessary, whichever brand you choose. There are brands in the market who offer corrections for free. Choose them, as it will give your suit a custom maid rich look. Under-40 people should stick to those brands that are famous for catering under-40 crowds in the market.
Custom maid suits look rich and trendy:
A common mindset in the suit wearing men is they should go for one size bigger that shirt size! That is too big. I will say try one size less. To your surprise, it will fit you the best. After trying it on, check if the shoulder pads are perfectly fitted. They must be exactly aligned with your shoulder.
If you are in good shape, you should buy "trim fit" suits.  Those will always have less shoulder padding.  This will give you a natural, masculine shape. Make your own choice; don't let the salesman do it for you. Your comfort is your matter not theirs!  It should fit you, and after tailoring it should move with you.
Be prepared before entering the store:
When you go for the suit selection, wear the dress that you are planning to wear with the suit. Like:  dress shoes, your favourite shirt, and a good looking tie.  So that in the fitting room you can actually see what it'll look like once you purchase it.
One last but not least advice:
After getting it tailored, store it very carefully in your wardrobe. The quality of these cheap suits is not that good, even if it looks like. So, careful handling is a must.
Even while hanging it use wide hanger, make sure no part of the shoulder- pad is free, as it will drop down because of gravity.
Don't forget to cut the brand label at the sleeves.
It's not 'the brand', So the brand name must go!