Getting ready for an Interview in the summer job? Well, we shall go step by step what to wear and what not to wear while going for a life changing experience.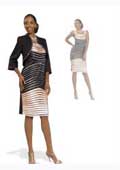 But it doesn't have to be this way, even on the hottest summer day. You probably already own everything you need; it's just a matter of equipping yourself with the right tools and walking into your interview with confidence.
While driving/travelling for destination:
Have one extra clothing for sure as your women interview suit . May be while travelling in summer it might be required for absorbing your sweat and will help you to feel you fresh.
Women! Be ready with a check list which could make you always ready to check-out your outfits. You should know about your company first. Suppose its an institution your outfits should be like the job you are going to get to. And if you come to know that the employee of that company wear mostly casual outfits, you could wear casually but you should stick on the conservative as you have to show respect for the process of interview and judges.
Love your attire, they will love you back:
Ensure that your attire are with good fittings and are already neatly ironed. To add a colourful tone you could try scarf and candid earrings with your dress. It will add delight in your attitude and will make your looks positive. Never forget to keep your hair according to you dress. No free falls and long flicks would do magic on interviewers. So concentrate on binding them neatly. Slight variations are allowed but not too much experiments to unmatch your dress.
You could consider decent/semi-stylish sweaters and tops. Also pick up chic and light colored skirts would do good. Blazers for women are also a good option to look good during interviews.
As a combination, you could chose a decent chic paired it with a simple cardigan or dark to mild colored blazer to enhance your professional looks.
Wear a fragrance:
For a pleasant effect you could consider a small amount of very light perfume on your neck or wrist. Don\92t spray yourself with perfume as the strong sensation may hypnotize your judge in a negative way. Surely, you don\92t want that. Situation becomes worse when you find a judge who is allergic to cologne and perfume.
When you open your mouth:
Apart from the impressive words you utter, you must not forget to wear a smile along with some basic needs.
Never chew gum as it has a chance of spoiling your clothes and leaves a bad impression on judges.
Heels or flat:
We would suggest you to wear flats and not heel. In travel heels may be uncomfortable and my leave you with tired looks. Have some time before leaving and before entering in interviewing hall, have some tea/coffee or at least some lemonade.
Thumb Rule: Never try too much high heels. Not more than 3 inches as a thumb rule.